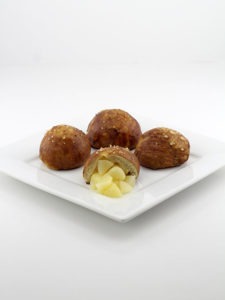 When you think of classic sweet and salty food combinations what comes to mind? Chocolate covered bacon? Ham and pineapple? Well, here's a new one for you — Pear Stuffed Soft Pretzel Balls!
The folks over at Foodbeast partnered up with the Canned Food Alliance and asked a few different food bloggers — myself included — to create quick and easy recipes that make use of canned items as an integral part of the dish. They also specifically stated that they weren't looking for anything that was deep fried, which sort of threw me for a loop since that's a majority of what I do, but in the end I'm pretty sure that deep fried or not nothing could have topped these.
In fact, I've never even been a huge fan of pears until I decided to make these, but now I'm hooked! The fact that they were canned made them even more delicious since they're basically just soaking up juice concentrate right until you eat them. Want to make your own Pear Stuffed Soft Pretzel Balls? Head over to Foodbeast for the recipe!