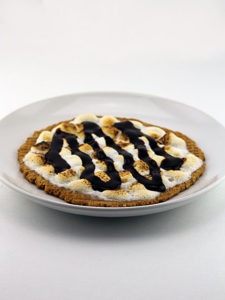 I made this back in March when I had some graham crackers and half a bag of marshmallows left over after making my S'mores Cone so I figured I'd put them to good use by whipping up a S'mores Pizza.
I finally Googled "Smore's Pizza" after I made it and it turns out that a ton of people have already done this so I wasn't even going to post it but whatever, it was awesome so I decided to share it anyway.
The process was pretty much exactly the same as it was when I made the cone — I mixed 1 1/2 cups of crushed graham crackers with two eggs, a tablespoon of vegetable oil and a sprinkle of sugar and spooned a few tablespoons of the mixture into my waffle cone maker and let it bake for a minute.
This time though, instead of forming it into a cone, I topped it with mini marshmallows and popped it into my 350° oven for ten minutes. After taking it out I drizzled melted Hershey's chocolate on top of the golden brown marshmallows, sliced it up and dug in! It was delicious! On top of that it was way less messy than the S'mores Quesadilla that I made four years ago was.