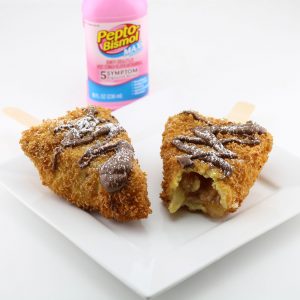 A couple weeks ago I was driving past a dollar store when I noticed a gigantic sign advertising that they were selling $1 ribeye steaks.
Against my better judgement I bought five of them and although they're still sitting at home in my freezer until I can work up the courage to give them a try I also picked up a couple $1 slices of apple pie which surprisingly, when breaded, deep fried and covered with melted chocolate and powdered sugar were pretty great!
Do you need to use dollar store apple pie slices for this recipe? Absolutely not! Maybe you're having a cookout for Memorial Day and maybe your Grandma Betty is coming over and maybe — if you're lucky enough — she's bringing one of her world-famous homemade pies.
If that's the case just throw a slice in the freezer and in an hour or so it'll be frozen enough to not completely fall apart when you want to deep fry it. Trust me, this step is very important because there's nothing worse than wasting a slice of Grandma Betty's delicious apple pie.
Similarly, If you prefer to just eat your Deep Fried Apple Pie with a fork go for it. I actually got stuck buying a bag of 250 popsicle sticks for this blog post, and seeing as how I only used two of them I now have 248 left just sitting in a drawer in my kitchen.
On the plus side, that means I've got a ton more recipes of deep fried stuff on sticks coming up! I mean, I guess I could just use them for actual popsicles, but using a deep fryer is always way more fun….
So, no matter what you're cooking up — literally or figuratively — this Memorial Day just make sure you're also got some Pepto-Bismol handy to cure all of your 5 symptoms from enjoying all those foods you love! If you don't have any then you can click here for a $1 off printable coupon.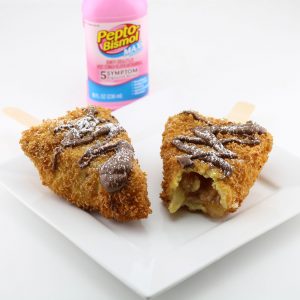 Deep Fried Apple Pie on a stick Recipe
Nick @ DudeFoods.com
What's better than a slice of apple pie? A slice of deep fried apple pie on a stick!
Ingredients
2

quarts

oil

for frying

2

slices

apple pie

frozen

1

cup

flour

3

eggs

1/2

cup

milk

3

cups

panko breadcrumbs

2

Hershey's chocolate bars

1/4

cup

powdered sugar

2

popsicle sticks
Instructions
Heat oil in deep fryer or heavy skillet to 375°F.

Set up a dredging station with three bowls — flour in the first one, beaten eggs and milk in the second one and panko breadcrumbs in the third one.

Coat each slice of apple pie in flour, submerge in egg wash and cover in breadcrumbs.

Fry for 3 minutes or until breadcrumbs are golden brown.

Break chocolate bars into small pieces and microwave in 30 second increments until the chocolate is completely melted.

Drizzle Deep Fried Apple Pie with melted chocolate and top with powdered sugar.
Disclosure: Pepto-Bismol partnered with bloggers, such as me, to get the word out about its great product benefits. As part of this program, I received compensation for my time. Pepto-Bismol believes that consumers and bloggers are free to form their own opinions and share them in their own words. Pepto-Bismol's policies align with WOMMA Ethics Code, Federal Trade Commission (FTC) guidelines and social media engagement recommendations.