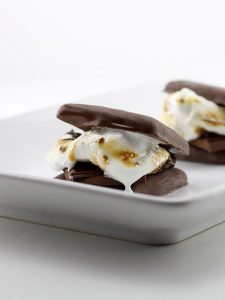 Out of the 14 boxes I bought this year I finally got around to eating the last of my girl scout cookies last weekend. The Caramel deLites? I went through those the first day my cookies were delivered, The Peanut Butter Patties were gone shortly after, but I saved one package for last — the new S'mores cookies.
On their own the Girl Scout S'mores were pretty damn good — although they apparently offer two different types of s'mores cookies, which I only found out about after I already placed my order — so I only got to try one of them.
Do you want to know what makes them even better though? Using Girl Scout S'mores cookies as the top and bottoms for actual s'mores! Yep, skip the traditional graham crackers, toast some marshmallows and combine them with Hershey's chocolate and thank me later!