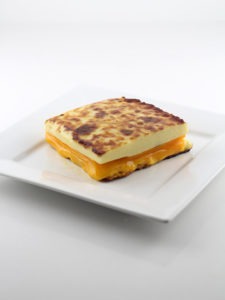 Ever since I went on a Wisconsin cheese tour last summer I've made it a point to try a larger variety of the many amazing cheeses that my home state offers. Recently I was at the grocery store and saw that Carr Valley Cheese Company produces something that they refer to as "Bread Cheese."
Seeing this cheese really got me thinking. What if I were to make a grilled cheese sandwich that used this cheese in place of bread? A grilled cheese sandwich that was 100% cheese! I had no idea if it would even work, but right on the packaging Carr Valley actually recommends sautéing this cheese in a skillet. Plus, the cheese is already partially baked in an oven — hence the dark brown spots on it — so I figured it would be worth a shot.
I started off by heating up some oil in a pan and cutting the block of bread cheese in half. I added a few slices of Cheddar cheese to the middle of my sandwich and sautéd it for a couple minutes on each side. It turned out way better than I even expected. The bread cheese softened up a bit, but completely kept its shape, while the Cheddar melted perfectly in the middle. Long story short, the sandwich was delicious!
Seriously, if I didn't have a heart attack after eating this 100% cheese grilled cheese sandwich I'm just going to have to assume that I'm invincible. I still made an extra trip to the gym the next day though just in case….