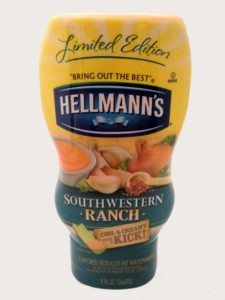 I used to be hooked on Hellmann's mayonnaise. Back in college I went through the stuff like it was water. In fact, I ate so much of it that when referring to water I probably could have said "I go through this stuff like it's mayonnaise!" and it would have been a fitting comparison.
Seriously though, I used to buy Hellmann's mayonnaise by the gallon from Sam's Club. I put it on every single burger and sandwich I ate and dipped my fries and chicken wings in it. At 2:30am I'd come home from a long night of drinking with my friends, heat up a microwave corn dog and dunk it straight into the gigantic jar of mayo. I even came up with my own precise mixture of mayonnaise and ketchup that I referred to as "metchup." Since going through a gallon of mayonnaise every couple months isn't exactly the most healthy thing in the world I've since cut back, but Hellmann's will always hold a special place in my heart.
Where was I going with this story again? Oh yeah, they recently launched a limited-edition Southwestern ranch flavored mayonnaise and sent a bottle of it my way. Taste wise it definitely packs a little more of a kick than their regular mayonnaise. Hellmann's actually suggests mixing one bottle of their new mayo with a cup of salsa and three tablespoons of chopped cilantro if you're looking to make a super fast southwestern salsa dip, but even on its own it already tastes pretty good. I just hope this one small bottle doesn't send me spiraling back into my Hellmann's mayonnaise addiction….