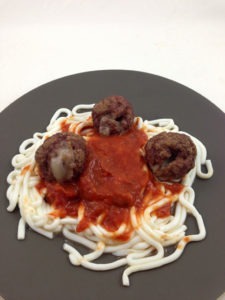 Each year the Wisconsin Milk Marketing Board asks 30 different food bloggers to each pick a different type of cheese and use it to create a unique macaroni and cheese dish. They call it 30 Days, 30 Ways, and for the third year in a row they've asked me to participate.
Two years ago I created a macaroni and cheese pie that featured a crust made entirely out of bacon. Last year I used Swiss cheese to make some pretty amazing Reuben mac & cheese. This year the Milk Marketing Board asked everyone to come up with a unique take on a classic dish, and I think I've done just that with this mac & cheese spaghetti.
Alright, I know what you're thinking so I'm just going to cut straight to the chase. This looks just like regular spaghetti doesn't it? Well, what you see here aren't spaghetti noodles at all. With the help of a couple food grade chemicals, a syringe and some plastic tubing I actually made the "noodles" out of mac & cheese sauce. It's sort of the same process that I used back in September when I made s'mores spaghetti. Then, just for good measure, I topped the noodles with some mozzarella stuffed meatballs.
The process is fairly time-consuming since you're basically creating each noodle one by one, so this probably isn't a recipe you'd be using to make dinner for your entire family, but it's definitely a fun experiment nonetheless. Wanna try making it yourself yourself? Just head on over to 30 Days, 30 Ways for the full recipe and more detailed cooking instructions!