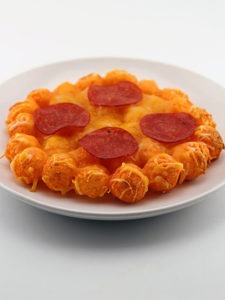 Back in January I made a burger that had a bun made entirely from cheese balls and melted cheese. Immediately after I posted it my buddy Jeff left a comment saying "Next up, cheeseball pizza!"
After thanking him for his genius idea and kicking myself for not thinking of it first I headed back into my kitchen and found a glass bowl that was about double the size of the one I used for the burger buns. I layered the bottom of the bowl with cheese balls, topped them with shredded Cheddar cheese and threw it in the microwave for 45 seconds. After that I flipped the cheese ball crust over and did the same to the other side of it.
Once both sides of my pizza crust were completely covered in delicious melted cheese I transferred it to a baking sheet and topped it with pepperoni and even more cheese — because you can never really have too much cheese on a pizza. To finish it off I popped it into my oven and baked it for ten minutes at 350°.
When it came time to slice my Cheese Ball Crust Pizza into triangles I was worried that it would just completely fall apart — that perhaps I hadn't used enough cheese after all — but to my surprise it held together perfectly, and oh my god was it delicious! The cheese balls soaked up just enough grease from the melted Cheddar to not break apart when I sliced the pizza or took a bite, but not too much grease to the point where they completely lost their crunch.
I'm not really sure where to go next as far as crazy creations that involve cheese balls, but obviously the ultimate way to top this would be to make two huge cheese ball pizza crusts and then throw a giant four pound burger patty between them like I did when I made my Screamin' Sicilian Pizza Burger. Maybe I could even make it a double with two cheese ball pizza crusts on the outside and two giant burger patties with an additional regular pizza between them! Then again, maybe some things are just better off left to the imagination….