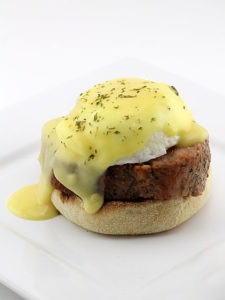 Last month I mentioned that Smithfield sent me a package that included numerous Marinated Fresh Pork Products that they offer and asked me to come up with a couple recipes using them.
For my first one I used Smithfield's Teriyaki Pork Tenderloin to create some delicious Teriyaki Pork Fries With Sriracha Mayo and this time I opted to make use of their Garlic & Herb Pork Sirloin.
Before I get into that though I'd like to talk about Eggs Benedict for a second. I absolutely love Eggs Benedict, but I've never been a huge fan of the Canadian bacon aspect of it. It's not even that I don't like Canadian Bacon, it's just that I can think of about 100 other things that I'd prefer to have my poached egg sitting on top of instead.
So, this past Saturday morning as I was getting ready to make myself some breakfast and visions of Eggs Benedict danced through my head I decided to swap out the Canadian bacon for Smithfield's Garlic & Herb Pork Sirloin.
When it comes to breakfast I'm usually pretty impatient and want my food ready as fast as possible, so there's no way I'd normally ever even think about taking the time to make a pork sirloin so early in the morning. Like Smithfield's Teriyaki Pork Tenderloin that I wrote about last month though their Garlic & Herb Pork Sirloin can also be ready in as quickly as 20 to 30 minutes and since it arrives marinated and pre-seasoned the only thing you have to do is grill, roast or sautée it!
All I did was cook the pork sirloin according to the directions on the package, and while it was in the oven I got to work on the poached eggs and hollandaise sauce. For the sauce you can go one of two ways. If you're strapped for time it's always easy to just buy one of those hollandaise sauce mix packets where you just have to add water or milk. I usually prefer making my own though by whisking three egg yolks, one tablespoon of milk and a tablespoon of lemon juice in a pan over medium heat and then slowly adding eight tablespoons — or 1/2 cup — of melted butter.
For the eggs I like to use an egg poacher where all you have to do is boil and inch of water in a pan, crack a few eggs into the poacher and drop it into the boiling water, put a lid on the pan and then wait five or six minutes for perfectly poached eggs. By the time my poached eggs and hollandaise sauce was done the Garlic & Herb Pork Sirloin was ready to eat, so all I had to do after that was slice it, place it on top of some toasted English muffins and then add eggs and sauce!
As far as a substitute for Canadian bacon goes I'd easily choose this pork sirloin over it any day of the week, and seeing as how I still have an additional Olive Oil Pork Sirloin that Smithfield sent me along with this one I hopefully won't be waiting long at all before I'm eating it again!