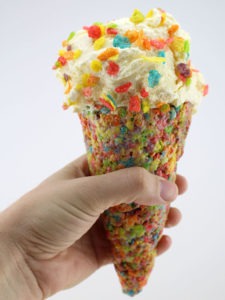 In my quest to alert Mother Nature that hey, here in Milwaukee we're ready for summer and not this crappy 40 degree and rainy weather that you've been handing us since winter ended I decided to make a Fruity Pebbles Ice Cream Cone.
The idea stemmed from back in February when I made a Rice Krispies Treat Ice Cream Cone, and to create this one I followed the exact same steps, except for the part where I substituted Fruity Pebbles for Rice Krispies.
To create the cone I melted three tablespoons of butter in a saucepan over medium heat and then added ten ounces of marshmallows and stirred those until they were melted as well. I then removed the pan from the heat and stirred in six cups of Fruity Pebbles.
I then spread the mixture between two pieces of wax paper, flattened them into a sheet with a rolling pin and wrapped them around a cone form. Altogether I was able to make three pretty large cones with this one batch.
Unlike with the Rice Krispies Treat Cone where I used chocolate chip cookie dough ice cream I instead opted for regular ol' vanilla this time, but with one small exception… I also mixed in the leftover Fruity Pebbles that I had with the ice cream, which combined with the Fruity Pebbles that were already in the cone made this so, so good!
So did my message to Mother Nature get through? Well, it has been 55° and sunny almost every day since I made this, but then again, that's most likely just due to the fact that it's getting closer to summer. Either way though, I'll take it!