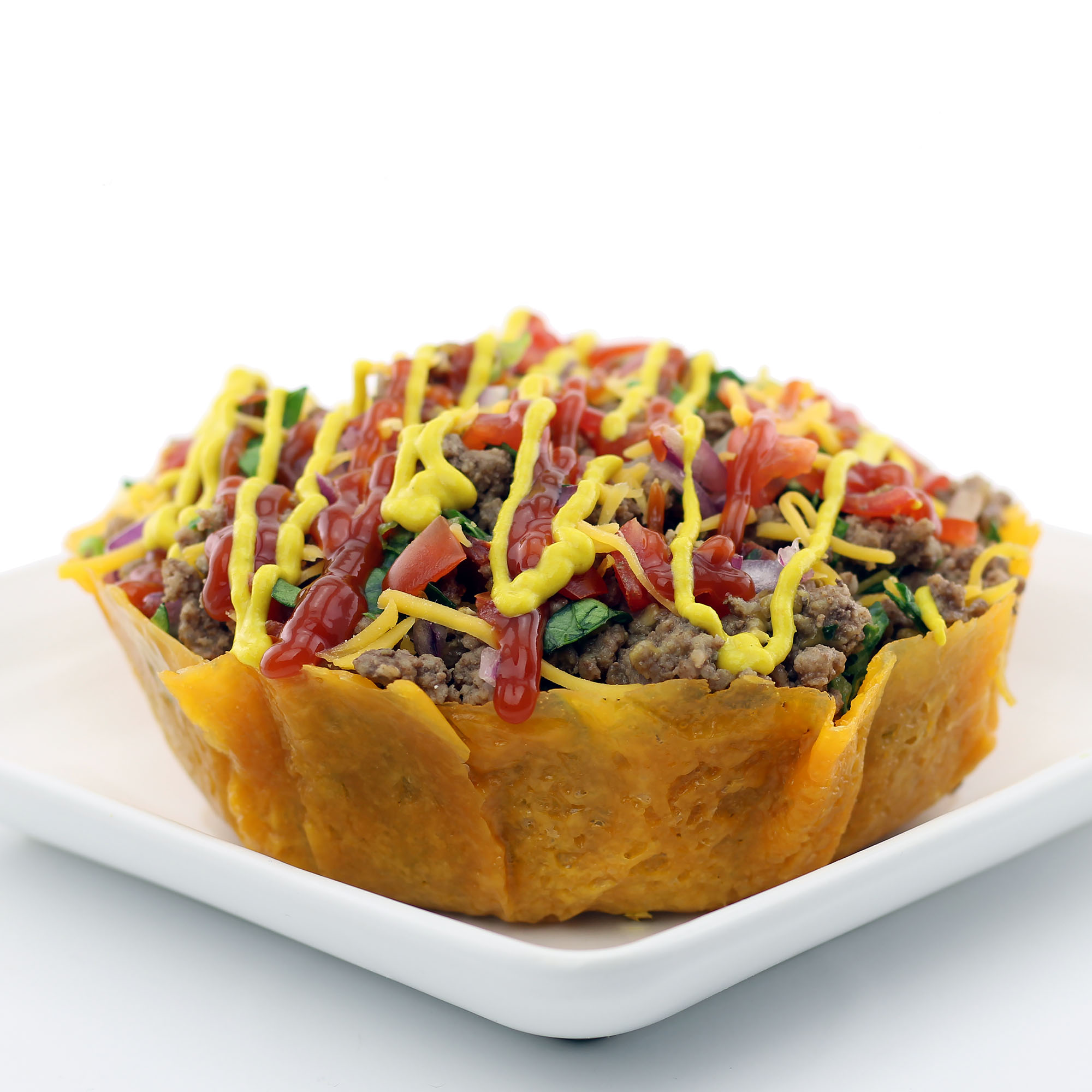 Back in April I discovered Folios Cheese Wraps at my local grocery store and professed my love for them after I used one of their Parmesan wraps to make an edible bowl that I filled with Cobb Salad.
Apparently everyone else loved them as much as I did, because for months these things were sold out everywhere and I never got another chance to try them.
Well, about a month ago Folios contacted me to let me know that they'd recently finished expanding their production facility and they even shipped me a box of Folios which contained all three of the flavors that they offer — Cheddar, Jarlsberg and Parmesan.
Since it had been a good five months since I was last able to get my hands on these cheese wraps I had a plethora of ideas in my head as to what I should make with them and here's the first recipe — Bacon Cheeseburger Bowls!
The process to create the Cheddar cheese bowls for these is the same as it was when I made Parmesan cheese bowls that I filled with Cobb salad. You just need to take a Folios Cheese Wrap and stick it in the microwave for one minute and then immediately form the warm cheese around a glass bowl.
After about another minute the cheese will start to cool and hold its shape and you can remove the parchment paper so you're left with a Cheddar cheese bowl to fill with the bacon cheeseburger bowl recipe you see below or anything else your little heart desires. I'm totally filling my next one with scrambled eggs and bacon!
Cheddar Cheese Bacon Cheeseburger Bowls
Nick @ DudeFoods.com
If you're trying to stick to a keto or low carb diet these bacon cheese burger bowls are perfect! Plus, they're super unique since each one is served in an edible Cheddar cheese bowl!
Ingredients
4

Folios Cheddar Cheese Wraps

2

pounds

ground beef

1

cup

tomato

diced

1

cup

red onion

diced

1

cup

lettuce

chopped

1

cup

bacon

diced

1

cup

Cheddar cheese

shredded

ketchup

mustard
Instructions
Take one Folios Cheddar Cheese Wrap — including the piece of parchment paper it comes on — and microwave it for 1 minute.

Flip the cheese over an upside down bowl immediately after removing it from the microwave, form it around the bowl and remove the parchment paper. Repeat with the remaining cheese wraps.

Brown the ground beef in a pan and drain the fat.

Add ground beef, tomato, onion, lettuce, bacon and shredded Cheddar to a bowl and shake to combine.

Transfer bacon cheeseburger mixture to Cheddar cheese bowl and top with ketchup and mustard.