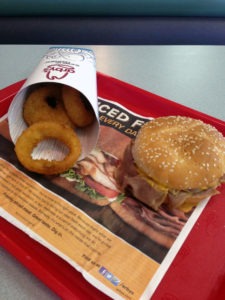 Arby's recently partnered with King's Hawaiian to launch a couple new sandwiches and sent a gift card my way so I could give them a try.
The first sandwich simply takes a regular Arby's roast beef sandwich and swaps out the usual sesame seed bun for a King's Hawaiian bun. The second does the same while adding some pickles, a Dijon spread and Swiss cheese to the mix as well.
The problem is, I absolutely hate pickles, and the Dijon spread didn't sound too appealing to me so I decided to just order my favorite Arby's sandwich — the Beef 'n Cheddar —  and see if I could get it on a King's Hawaiian bun instead of the onion bun that it's normally served on. Every time I eat a Beef 'n Cheddar I request a regular bun anyway and there's never an issue with it, so I figured it would be the same way with the King's Hawaiian bun.
The woman taking my order didn't seem to have a problem with my request either until she couldn't figure out how to ring up a Beef 'n Cheddar on a King's Hawaiian bun. After a minute or so she decided to just verbally relay my order to the cook, who replied that they're only allowed to use the King's Hawaiian buns when making one of the new sandwiches. "OK, can I just order the King's Hawaiian Roast Beef sandwich and pay extra to add Cheddar cheese sauce?" I asked. "We can't do that either" the cook replied. Defeated, I just went with my usual order of a Beef 'n Cheddar on a regular sesame seed bun and an order of curly fries.
As the cashier rang up my order I handed her the gift card that Arby's had sent me. She swiped it and looked confused. She then tried running it a few more times, hit a couple buttons and still couldn't seem to get it to work. "Is this a gift card?" she asked me. Since the words "Arby's" and "gift card" were clearly printed right on the front of it her questions sort of caught me off guard. "Ummmm yeah…" I replied.
Unable to get it to work after two more tries she left to find the manager, only to return to tell me that he was "in the bathroom" and couldn't help right now. By this point a fairly decent sized line had formed behind me and there were no other registers open so I told her I'd just pay with my credit card and use my gift card on a future visit. I did check the balance on my gift card later that day, and there's definitely money loaded on it, so I'm not sure why it wouldn't work.
After carrying my tray back to my table I noticed that the cashier had accidentally given me onion rings instead of the curly fries that I ordered. I've never had the onion rings from Arby's so rather than take them back up to the front counter I decided to just eat them. In retrospect I should have gone back for my curly fries…. $1.99 only gets you five onion rings, and although they're large than most fast food onion rings the taste just wasn't really there. Luckily, my Beef 'n Cheddar was great as usual!
Even though I didn't get to try one of the new King's Hawaiian sandwiches from Arby's I'm sure they're good. Their roast beef sandwiches have always been delicious, and King's Hawaiian rolls are pretty amazing as well, so there's no doubt in my mind that the combination of the two is great. I just wish that they'd offer the buns as options for their other sandwiches.