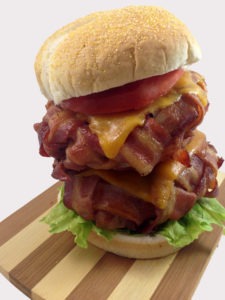 Today is the start of Meat Week over on Destination America and to celebrate they've asked several food bloggers — myself included — to create a "meaty and delicious" meal to help celebrate.
So what is Meat Week exactly? It's seven days of completely new programming that kicks off with the new one-hour special, Smoked, followed by Epic BBQ Pits, as well as two new episodes of United States of Bacon, culminating with the season premiere of the hit series, BBQ Pitmasters on Sunday, June 2 at 9pm E/P.
As far as my recipe goes, here's what I came up with. I call it the Bacon Weave Double Cheeseburger, and it consists of two 1/3 pound ground beef patties – each of which is wrapped in a bacon weave – plus a couple slices of Wisconsin Cheddar cheese, lettuce, tomato and mayonnaise on a bun.
Since bacon cooks a little more slowly than ground beef does I started off by creating two bacon weaves and cooking them in the oven at 375° for 15 minutes. After taking them out and letting them cool I then wrapped each bacon weave around a 1/3 pound ground beef patty and threw them on my grill. I then grilled my bacon weave wrapped burger patties for about five minutes on each side and then tossed a slice of cheese on each one, took them off the grill and assembled my burger!
After seeing how huge my bacon wrapped ground beef patties ended up it was pretty obvious that having only one of them on a bun would have been WAY more than enough, but at this point I'd already committed myself to making a double cheeseburger so I just went for it. Plus, I still had a ton of Hormel bacon left from when I made my Bacon Weave Quesadilla, so I figured that I might as well put it to good use.
Despite the fact that I could barely hold my Bacon Weave Double Cheeseburger with one hand it still turned out pretty amazing. One of the things that made this burger so great is that as it was cooking on the grill the burger patties absorbed the bacon grease, which turned it into one of the juiciest burgers I've ever eaten.