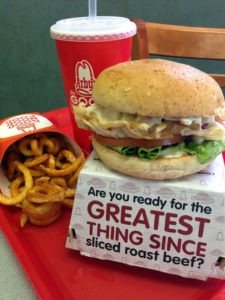 I'm pretty sure that the menu at Arby's changes more often than any other fast food restaurant out there. The plus side of this is that every time they announce a new menu item they usually send me a gift card so I can try it out and write about it here on DudeFoods.
Their most recent addition to their menu is a line of turkey sandwiches, or Turkey Roasters as they call them. The one I decided to try was their Grand Turkey Club, which consists of sliced roasted turkey, Swiss cheese, pepper bacon, lettuce, tomato and mayo on a toasted wheat bun.
The sandwich was actually bigger than I expected and on top of that it was pretty damn good as well! I'm a total sucker for turkey though. Any time I make myself a sandwich at home it's inevitably a turkey sandwich, so it's nice to see a new fast food turkey option being offered since I eat fast food pretty much every single day for lunch.
As I was eating I noticed a sign on the table promoting a new mobile app called Front Flip where you can scan a QR code each time you go to Arby's and you have a chance at winning free food. Normally I wouldn't even bother with something like this — I've got enough useless apps installed on my phone already — but I was bored so I downloaded it, scanned the code and won a Classic Beef  'n Cheddar sandwich. If there's one thing I like more than getting free food it's getting even more free food as I'm eating my original free food!
I've actually still got some money left on my gift card that Arby's sent me so maybe I should pick up another one of these, grab a turkey sub from Subway, hit the streets and try to find Johnny for another Arby's vs. Subway Homeless Taste Off.