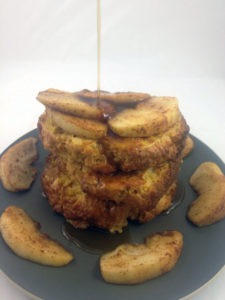 To the naked eye this probably looks like a few slices of French toast topped with some spiced apples, but in reality it's a version of French toast that I came up with last Saturday. I call it drunken French toast.
The bread? Beer bread made with Sprecher Brewery's Abbey Triple Belgian style ale. Instead of just battering the bread in a mixture of egg and milk like you do with traditional French toast though I swapped out the milk for RumChata, which if you've never had it is Caribbean rum mixed with dairy cream and spices. Basically RumChata tastes like the leftover milk that you have in the bottom of your cereal bowl when you eat Cinnamon Toast Crunch.
Once my French toast was done I finished it off by topping it with apple slices that were mixed with cinnamon, sugar and a little bit of nutmeg and boiled in whiskey. Yep, beer, rum and whiskey all in one meal! And a breakfast meal at that!
The French toast slices on their own were awesome, and the whiskey soaked apples were super good, but together they combined for some pretty top notch drunken French toast! I even had some of the egg / RumChata mixture left over when I was done so I made scrambled eggs with it. They turned out to be some of the best scrambled eggs I've had in a while, so it looks like I might need to start incorporating RumChata into some more of my recipes. I do have 3/4 of a bottle left over after all!