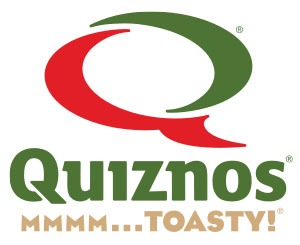 For the next few weeks Quiznos is running a contest over on their Facebook page where they're giving away a $10,000 dream vacation along with a ton of instant win prizes like Nike+ iPod Sport Kits, shoes from Zappos, GPS units and Quiznos gift cards. Plus, just for entering you get a coupon for $1 off you next regular or $2 off your next large Quiznos sub.
To help spread the word they sent me $5 gift cards to give out to three lucky DudeFoods readers. They included a couple gift cards for me too, but being the nice guy that I am I'm also going to give those away. That means that five of you will each receive a $5 Quiznos gift card!
Want to win? Just leave a comment on this blog post letting me know what your favorite sandwich topping is. I'll pick five random winners at 5pm this Friday, November 2nd. Good luck!
Oh yeah, and if you're looking for something new to try the next time you visit Quiznos I highly recommend their limited time only Prime Rib & Hollandaise Steak Sub. I just ate one yesterday and can personally vouch for the fact that it's pretty delicious.
Update: 11/2/2012 — Congratulations to Brett, Letta, John, Lara and Phil who each won a $5 Quiznos gift card!