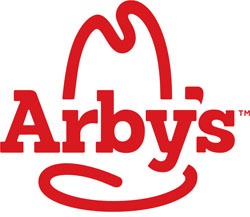 Arby's recently launched their new Smokehouse Brisket Sandwich, and to help spread the word they've sent me a couple free sandwich coupons to give out to two lucky DudeFoods readers so you can try it for yourselves.
They also sent me everything I need to make my own brisket at home including wood chips, an apron, gloves, a thermometer and a sauce brush. All that was missing was the meat itself, but they threw in an American Express gift card so I could go out and buy some. The gift card was for $100 though, which is way more than I need for the remaining supplies so I used part of it to buy a few $5 Arby's gift cards meaning that five of you will win instead of just two!
So what exactly is the Smokehouse Brisket Sandwich you ask? Well, it consists of tender brisket — smoked with real smoke from a real fire for at least 13 hours — Gouda cheese, mayo and smoky barbeque sauce. Oh yeah, and some crunch fried onions for good measure!
Now, I had the pleasure of trying one of these sandwiches yesterday and let me tell you, it was good! After finishing it I actually considered forgoing this blog post completely and just keeping all the gift cards for myself so I could buy more Smokehouse Brisket Sandwiches, but I don't think that Arby's would have been too happy with that.
Want to win one of the gift cards? Click here, head over to the DudeFoods Facebook page and leave a comment on the Smokehouse Brisket Sandwich photo letting me know that you want in! I'll pick five random winners one week from today! Good luck!