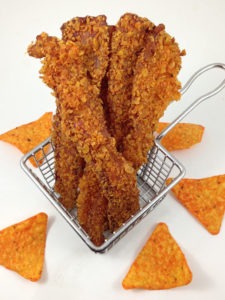 A while back I made some Doritos Crusted Chicken Strips. Then, back at the end of March I made a Deep Fried Doritos Breaded Burger, which was absolutely amazing. Just when I thought I'd run out of things to bread with Doritos though I was staring at a package of bacon that Hormel sent me when I thought to myself "You know what, why not bread some of this bacon with Doritos!?"
So, I fried up about ten slices of thick cut bacon, dredged them in flour, brushed an egg wash over them and then sprinkled crushed up Doritos on top of each slice before dropping them in my deep fryer for about 30 seconds.
The results were delicious! Just when you think bacon can't possibly get any better a bag of Doritos comes along, mixes it up with some bacon and sucker punches your taste buds! I'm actually having a hard time deciding what I liked better, the Oreo Cookie Glazed Bacon that I made back in February or this. I guess I'll have to just make them both again and do some sort of taste test!