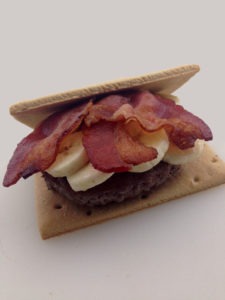 If I had been alive back in the1960s or 1970s I feel like I could have been great friends with Elvis, not because I'm a talented musician or into things like karate and horses like he was though, but because like Elvis, I love gorging myself on ridiculously unhealthy things like peanut butter, bacon and banana sandwiches. In fact, Elvis ate those sandwiches so often that they've commonly been referred to using his name ever since.
Since I started DudeFoods I've created numerous variants of the Elvis Sandwich including The Bacon Weave Elvis Sandwich, The Spicy Elvis, Mini Elvis Doughnuts and even Elvis Cookies. Just when I thought I was out of Elvis-related food ideas though I was walking through the grocery store, noticed some peanut butter Pop-Tarts and got to thinking about how delicious it would be to use them as a bun for an Elvis Burger.
The second I arrived home from the store I was in my back yard grilling up a 1/4 pound burger patty, which I then topped with fresh banana slices, a few slices of fried bacon, and a little bit more peanut butter for good measure. That's how the Pop-Tart Elvis Burger was born!
The only real bummer was that I couldn't find any peanut butter Pop-Tarts that had frosting on them. I've ever really been a fan of the non-frosted Pop-Tarts, but when you add a nice greasy burger, bacon and bananas to them I'll tell you what, they're pretty damn good!