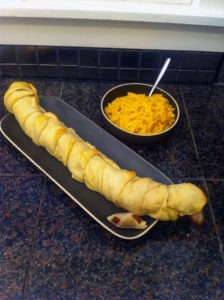 Wow, I can't believe this is already my 100th post here on DudeFoods. When I made my very first post back in August of last year I really had no idea how far this blog would go. Yeah, my friends and I thought the ridiculous foods that I made at home and ate at restaurants were hilarious, but I really had no idea if anyone else who didn't know me would feel the same way. Apparently you guys do feel the same way though and it's amazing to me how many of you read this blog on a daily basis. The past ten months have been incredible, and as long as you guys keep reading I'll keep posting.
I wanted to do something special for my 100th post so I decided to try an interesting take on one of my favorite foods to eat when I was younger; pigs in a blanket with a side of macaroni and cheese. For those of you who are unfamiliar, pigs in a blanket are hot dogs that are wrapped in cheese and crescent roll dough and then cooked in the oven until golden brown. I realized recently that I hadn't enjoyed this meal in about ten years, so I set out to make it for myself for dinner.
Often times when making pigs in a blanket cocktail franks are used instead of full-sized hot dogs, but since my appetite has increased so much since my childhood I decided that even regular hot dogs weren't going to cut it for this meal, and that's when I headed over to Bunzel's Old Fashioned Meat Market, where owner Chip Bunzel was nice enough to help me out. Chip told me that he'd be happy to make a giant hot dog for me, but since I'm actually a big fan of their Hungarian sausage I decided to mix things up and use one of those instead. When he brought out my custom two foot long Hungarian sausage I was pretty much speechless, and immediately knew this was going to be quite the meal.
Once I got the giant sausage home I got to work. I'd never had a pig in a blanket wrapped in bacon before, and seeing as how bacon makes everything better that was my first step. After that I wrapped it in Cheddar cheese and crescent roll dough and tossed it in the oven. I actually didn't even have any bakeware big enough for this monster, so it ended up hanging over the edge of the baking sheet even when I placed it on there diagonally . To get a sense of just how big my pig in a blanket was I also made a regular one using a cocktail frank.
As soon as my dinner was done cooking I immediately dug in. It was even better than I remembered! Then again, that could also be due to the bacon addition and the delicious Hungarian sausage from Bunzel's. Oh yeah, I'd also like to point out that I have no idea whether or not this is actually the world's largest pig in a blanket. I did a Google search and couldn't find any that were larger than this, so until someone points me in the direction of a bigger one I'm going to continue to claim the title as mine. Viva la DudeFoods!