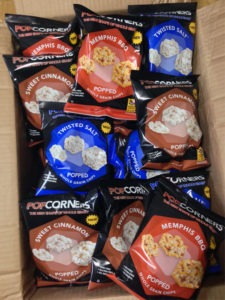 A while back a buddy of mine who is a pilot for JetBlue Airways gave me a few bags of PopCorners chips. Apparently JetBlue serves PopCorners on their flights, but seeing as how I'd never flown JetBlue and never noticed this amazing snack at any grocery stores near me I never got a chance to try them until that one fateful day.
After taking one bite I immediately declared PopCorners my new favorite chips. They basically take the awesomeness that is popcorn and combine it with what I can only assume is some sort of magic to create the most delicious chips ever. Oh, and they also get rid of the one thing that everyone hates about popcorn — the kernels that get stuck in your teeth.
If you're concerned with eating healthy you'll also be happy to know that PopCorners are all natural, gluten free and non-GMO. Then again, if you're concerned with eating healthy I'd like to know what you're doing here, because aside from my April Fool's Day joke I don't think I've ever written about a single other healthy thing.
Recently, PopCorners announced three new flavors — Sweet Cinnamon, Twisted Salt and Memphis BBQ — and sent me a case of them to try out. Yeah, an entire case! What's even better is that they're also giving me another case to give away to one lucky DudeFoods reader!
Want to win? Just leave a comment letting me know which new flavor of PopCorners — Sweet Cinnamon, Twisted Salt or Memphis BBQ — you're most excited to try. While you're at it, why don't you go give their Facebook page a "Like" as well. I'll pick one random winner a week from tomorrow on Friday, June 21st. Good luck!
Update: 6/21/2013 – Congratulations to John who won the case of PopCorners!