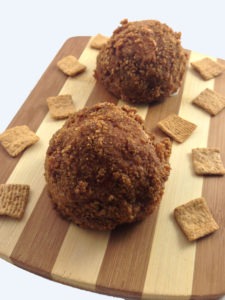 A while back Suzie from Boobs Bacon Bourbon challenged me via Twitter to come up with a recipe that involved Golden Grahams. I've also always wanted to try making Deep Fried Ice Cream, so I figured what better breading could I possibly use for my ice cream than a delicious cereal whose taste is a mixture of honey and brown sugar?
Some Deep Fried Ice Cream recipes I've seen online instruct you to wrap a slice of bread around your scoop of ice cream before frying it, but who wants ice cream wrapped in bread? I wanted something that actually complimented the ice cream, which is why Golden Grahams were absolutely perfect!
I started off by scooping some chocolate chip cookie dough ice cream onto a plate and then putting it into my freezer for about 30 minutes so it could harden back up. Next, I dipped each scoop of ice cream into an egg wash and then rolled them around in crushed up Golden Grahams before putting them back in my freezer once again. Then, just to be sure that my ice cream had a thick enough breading and wouldn't disintegrate when I dropped it in my deep fryer I followed that same process one more time.
After a final 30 minutes in my freezer my Golden Graham battered ice cream balls were finally ready for the deep fryer! Following a quick 10 second bath in the 375° oil I removed my Deep Fried Ice Cream and snapped a couple pictures. I definitely would have liked to take a few more photos, but as you can see from the couple that I did manage to get, the ice cream was melting fairly quickly. Plus, even though I'm all about bringing you guys great blog entries with decent photos I also wanted to enjoy my ice cream before it was just a pool on my counter top.
In the end the Golden Grahams couldn't have worked any better as a breading for my Deep Fried Ice Cream. It sort of reminded me of the Mexican Fried Ice Cream that I used to get at Chi-Chi's as a kid, minus the ridiculous amount of whipped cream that they used to top theirs with. What's so great about this recipe is that if you're having people over for dinner and want to serve them Deep Fried Ice Cream you can make all the Golden Graham breaded ice cream balls ahead of time and just leave them in your freezer until you need them. In the meantime though, I think I may have just found my new favorite dessert!