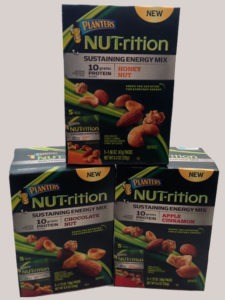 Planters recently launched a new mix of honey roasted peanuts, almonds and soy clusters that they call NUT-rition Sustaining Energy Mix. The mix comes in three different varieties — Apple Cinnamon, Chocolate Nut and Honey Nut — and each bag contains 10 grams of protein along with fiber, vitamins and minerals.
What I really wanted to know though is if the "energy mix" would actually give me any energy and if so, how much. So, I decided to put it to the test! For five straight days I started off my morning by eating or drinking something completely different and then kept track of the results. Here's what I found:
Day one: Planters NUT-rition Sustaining Energy Mix
How I felt afterwards: Aside from being pretty delicious the NUT-rition Energy Mix definitely gave me more energy than I'm used to having in the morning. When I do eat breakfast it's usually just something from the McDonald's or Burger King drive-thru while I'm on my way to work, so I don't think my body was used to this much protein in the morning.
Day two: A five year old can of Sparks with 6% alcohol
How I felt afterwards: I really don't remember Sparks tasting this terrible. Maybe it's because I never drank it at 7am, or maybe it's because this specific can was LONG past its expiration date, but I could barely finish it. I definitely felt more energy after drinking it, but the benefits were negated by the ridiculous stomach ache that I had all morning after finishing it.
Day three: Hungry-Man's Roasted Carved White Meat Turkey dinner
How I felt afterwards: Why did I think it would be funny to eat a one pound serving of turkey, mashed potatoes, stuffing and corn before I had to go to work for nine hours? This was a terrible idea, and I felt like going back to sleep as soon as I finished eating it. A meal like this needs to be reserved for days like Thanksgiving when I can eat and then go pass out on the couch for a couple hours.
Day four: A can of Red Bull
How I felt afterwards: This made me remember why I never drink Red Bull — I can't stand the taste of it. It wasn't as bad as the Sparks, but again, the stomach ache I encountered shortly after drinking it wasn't worth the extra energy at all.
Day five: A double dose of Café Mocha made in my Keurig coffee maker
How I felt afterwards: I hate the aftertaste that coffee leaves in my mouth, but this stuff definitely gave me some energy. It was a sort of nervous, jittery energy though that didn't really help me concentrate on anything. I probably should have just stuck with a single dose since I never drink coffee in the morning.
The verdict: Well, it didn't give me quite as much energy as the Café Mocha, but I definitely enjoyed the Planters NUT-rition Sustaining Energy Mix far more than the cans of Sparks and Red Bull. As far as the turkey and mashed potatoes goes, that's just a terrible way to start your day, but I pretty much already knew that going into this test.