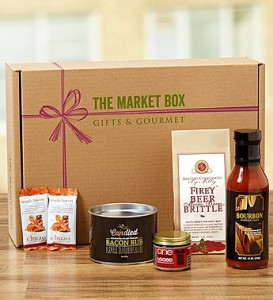 Back in August I gave away a Market Box from 1-800-BASKETS.COM, which is a gift box filled with "premium products inspired by today's culinary trends."
Well, 1-800-BASKETS.COM has expanded their Market Box offering since then and recently launched a new Bacon, Bourbon & Beer Market Box. What's even better is that they're giving one of these new boxes away to one lucky DudeFoods reader!
So what does the Bacon, Bourbon & Beer Market Box include you ask? Inside you'll find Candied Bourbon Pecan Praline Bacon Rub, Maple Bacon Chocolate, Fiery Beer Brittle, Bourbon Barbecue Sauce and a jar of Brew Ha Habanero Beer Jelly Rub.
1-800-BASKETS.COM sent me this exact same box a week ago, and the fact that I've already gone through everything in it aside from the Bourbon Barbecue Sauce — and the only reason that's left is because I haven't had a need for barbeque sauce in the past seven days — just proves that it's packed with some pretty delicious stuff.
Want to win? Just send an email to [email protected] letting me know that you want in!
Want a second chance at winning? Click here, head over to the DudeFoods Facebook page and leave a comment there as well! I'll pick a random winner one week from today! Good luck!
Update: 2/14/2014 – Congratulations to Rob who won the Bacon, Bourbon & Beer Market Box!