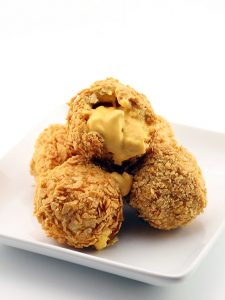 If there's anything I've learned from things I've made recently like The Deep Fried Doritos Breaded Qdoba Burrito or The Cheeseburger Pringles Breaded Deep Fried Burger it's that chips make for a pretty amazing — and easy — breading when you want to deep fry something.
If there's a second thing I've learned lately it's that my cholesterol is most likely through the roof right now because I just made and consumed a pretty ridiculous amount of Trotilla Chip Breaded Deep Fried Queso Dip!
I was feeling especially lazy the day I made this and just used a jar of queso that I picked up from the grocery store, but if you have a specific queso dip recipe that you love then by all means, use that instead.
Once you've got the dip all you need to do is freeze cubes of it in an ice cube tray, cover them in flour, dip them in an egg was, roll them around in some crushed up tortilla chips and then deep fry them at 375° oil for a couple minutes!
So what do you dip Tortilla Chip Breaded Deep Fried Queso Dip in? Even more queso dip of course!