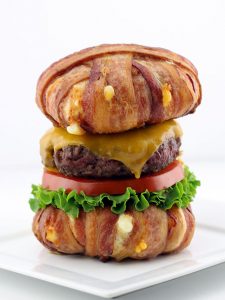 The Wisconsin Milk Marketing Board recently launched their Summer of Curds promotion for the second year where until September 21st they're giving away a cheese curd prize pack — including a pound of deliciously squeaky Wisconsin cheese curds — every single day.
To help spread the word about this amazing giveaway they asked me to come up with four over-the-top DudeFoods-esque recipes that utilize Wisconsin cheese curds. Well… here's the first one!
This Bacon Wrapped Cheese Curd Bun Cheeseburger is sort of similar to a burger I made recently that had deep fried wheels of cheese for a bun, but it surpasses it in a couple different ways. Number one, instead of a wheel of cheese I used fresh cheese curds and two, the cheese curds are wrapped in bacon before being deep fried!
You can check out a video of me making the burger below, or if you want the full recipe just head over to WisconsinCheeseTalk.com. Then, when your mouth is done watering, make sure you head over to EatCurds.com and enter to win a pound of fresh Wisconsin cheese curds, an EatCurds.com t-shirt, a cheese curd can koozie, magnet and a coupon for more curds (because the best thing to pair with your cheese curds is even more cheese curds).