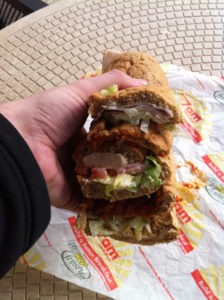 I wanted to do something special for Thanksgiving here on DudeFoods, and when I got to thinking about classic Thanksgiving food creations the turducken immediately came to mind. For those of you who are unfamiliar with what exactly a turducken is, it consists of a de-boned chicken stuffed into a de-boned duck which is finally stuffed into a de-boned turkey.
Not wanting to copy this idea exactly, but wanting something similar, I came up with the idea of stuffing three footlong Subway sandwiches together. Since Subway doesn't offer a duck sub I substituted a meatball sub, which is one of my favorites. Along with that, a footlong grilled chicken breast sub a footlong turkey sub and some duck sauce that I had leftover from some Chinese food that I ate a week ago my creation was complete.
Ladies and gentlemen, without further ado I give you the Turmeaken!