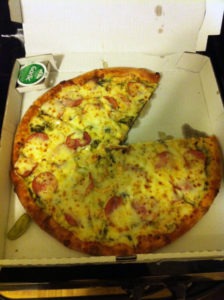 I remember back when I was a kid and my family would order pizza from Pizza Hut or Domino's and pretty much all they had as far as topping choices were sausage, pepperoni or supreme. These days however you can get everything from buffalo chicken to macaroni and cheese on pizza and I couldn't be happier about it. My favorite chain pizza restaurant nowadays happens to be Papa John's, and when I decided to order some food from them recently and noticed their new Cheesy Chicken Cordon Bleu Pizza I decided to give it a try.
The pizza features a spinach Alfredo sauce which is topped with grilled chicken, ham, onions and four cheeses (mozzarella, provolone, Asiago and Fontina). I was a little worried that with so many toppings the pizza might be a little dry, but it had the perfect amount of spinach Alfredo sauce to alleviate that problem. All in all the pizza was great, just like pretty much every other Papa John's specialty pizza I've ever had.
Also, can I just mention how delicious Papa John's garlic butter dipping sauce is? This has to be one of the most unhealthy things in the world for you to dip your pizza or breadsticks into, yet I continue to go through it like crazy every time I order their pizza.