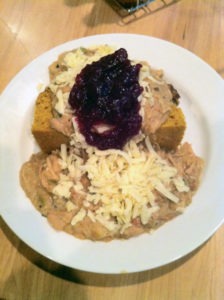 I'm normally not a fan of chili, but since Chili Lili's Chili Bar opened in Milwaukee this past summer I've had quite a few people tell me that I needed to try it. One of the main reasons I dislike chili is that I'm not a huge fan of beans, so I was happy to see that out of the many varieties of chili served there (they have everything from vegetarian chili to pizza chili to roasted corn chicken chili) there were plenty to choose from that didn't have any beans in them at all. Also on the menu are chili cheese fries, chili nachos, a chili burger, a chili dog (I feel like that guy from Forest Gump right now) and even some sandwiches and salads that don't contain any chili at all. Instead of just serving chili in a bowl like most places Chili Lili's gives you a few other options as well, like getting it served over garlic bread, served over corn bread or even served over macaroni and cheese.
When it came time to order I decided to go with the Thanksgiving chili that they had on special. This meal consisted of turkey chili served over pumpkin cornbread, which was then covered in pepperjack cheese and cranberry sauce. I really liked my dish a lot, but was even more impressed with the Cincinnati chili over macaroni and cheese that my wife ordered. The good part about this situation though is that she usually never finishes her food, so in addition to my chili I ended up eating a good portion of hers as well. Another thing I liked about Chili Lili's (aside from the food) was that they have four pinball machines. It's hard enough finding bars with one or two pinball machines and this place has four of them!
Aside from the fact that the food was pretty good there were a couple of things that weren't so great about Chili Lili's. First of all, the drinks seemed really expensive as opposed to how much most places in Milwaukee charge which was weird considering how reasonably priced the food was. For instance, my wife's double vodka cranberry was $12.50, which seems crazy especially since they use a jigger to measure out the alcohol to make sure that they don't put too much in your drink. Also, the service was pretty slow, and it's not because it was crowded (which it wasn't) or because their chili takes time to make (they make their chili to order to accommodate allergies and personal preferences which is great), but because while the one waitress who was working was running back and forth trying to serve all the customers the bartender was standing behind a completely empty bar watching football instead of helping her.