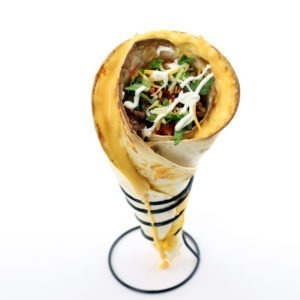 Seven years ago I made a hard shell taco cone that I filled with ground beef, cheese, lettuce, tomato and sour cream. I called it a Tacone and it was amazing.
It was the absolute perfect way to eat a hard shell taco without having the shell break apart causing all your filling to fall onto your plate, which seems like it happens every single goddamn time I eat one.
Shortly after that I came up with the idea of forming a quesadilla into a cone to do the same thing. Being the slacker that I am I never actually did anything with it though, I just added it to my ever growing list of recipe ideas without ever even attempting to make it… until now!
Now that I've finally made my Quesadilla Tacone — which is what I've named this amazing creation — I'm just mad at myself for waiting so long because I basically just spent the last seven years using boring, regular taco shells while this genius idea was just sitting in the back of my head the whole time. It seems like a total waste.
It did take me a few attempts to get the Quesadilla Tacone to work, but on my third try I finally got it right! The first time I tried to make one I just topped a tortilla with shredded cheese, added a second tortilla on top of it and rolled it into a cone. When I lifted it up to put it in the oven though all the cheese just slid down to the bottom of the cone.
After that I tried making a quesadilla normally before rolling it into a cone, which worked to an extent, but by rolling an already cooked quesadilla I just ended up with cracked tortillas that didn't look too appetizing.
For my final attempt I took a tortilla, spread nacho cheese on it, sprinkled shredded cheese on top of the nacho cheese and then added the second tortilla before rolling the quesadilla into a cone and baking it in my oven for ten minutes at 400°. In this instance the nacho cheese did its job and held most of the shredded cheese in place.
I still had cheese that slid towards the bottom of the cone as it baked in the oven, but I remedied the lack of cheese at the top of the cone by just squirting a bunch of warm nacho cheese between the two tortillas after taking the cone out of the oven. The more cheese the better right?! Is it perfect? Not yet. Is it better than any other type of taco shell currently out there? Absolutely!
What's also great about the Quesadilla Tacone is that you don't even have to do a plain cheese quesadilla like I did. How amazing would a steak and cheese quesadilla cone filled with ground beef or ground chicken taste?! The possibilities are endless!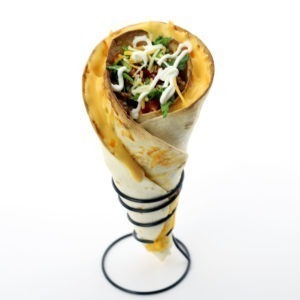 The Quesadilla Tacone Recipe
Nick @ DudeFoods.com
It's a quesadilla! No, it's a taco… in a cone! No, it's all of those things in one and it's delicious!
Ingredients
2

large flour tortillas

1

cup

nacho cheese

2

cups

cheese

shredded

Your choice of filling (I went with ground beef, lettuce, tomatoes, more cheese and sour cream)
Instructions
Place one of the tortillas on your countertop and spread the nacho cheese evenly over it.

Sprinkle the shredded cheese on top of the nacho cheese, add the second tortilla on top of that and roll your quesadilla into a cone.

Bake your quesadilla cone in the oven for 10 minutes at 400°. I used a metal cone holder to help my quesadilla cone keep its shape in the oven, but if you don't have one of those you should just be able to place it inside a glass.

Let the cone cool for a couple minutes and pack it with your choice of filling. I went with ground beef, lettuce, tomatoes, more cheese and sour cream.