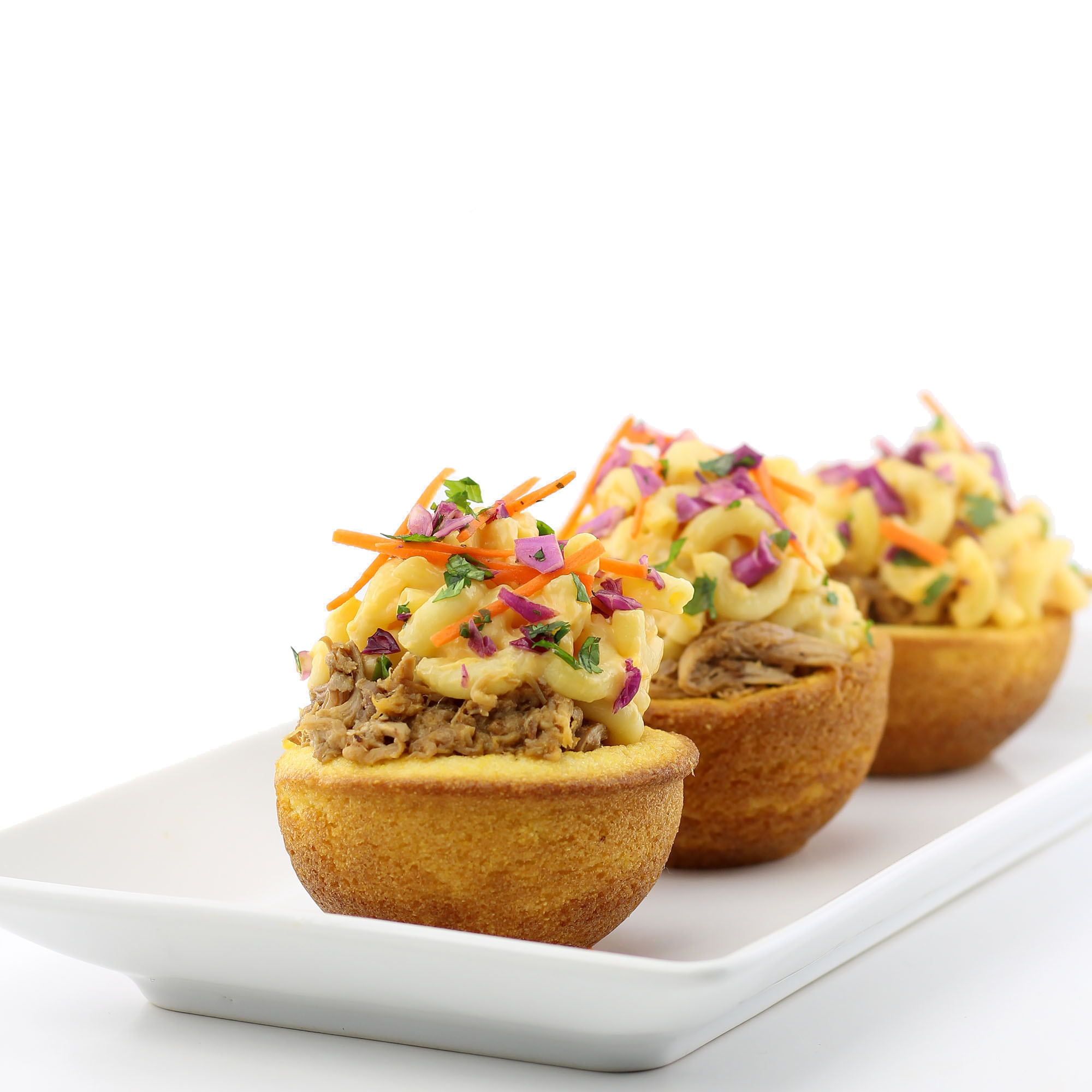 I made these cornbread bowls shortly after I made the bacon weave tacos that I filled with pulled pork, macaroni & cheese and coleslaw.
I loved the combination of pulled pork, macaroni & cheese and coleslaw together in each bite, but since the bacon weave taco shells take a while to make I was looking for an easier way to incorporate the three together again. Cornbread bowls turned out to be the perfect alternative!
You will need a Bake-a-Bowl Pan
to make them, but once you've got one of those you can also use it for all sorts of other cool things like scrambled eggs in pancake bowls, popcorn chicken in waffle bowls, macaroni and cheese in corn dog bowls or even red velvet bowls for your ice cream. The possibilities are pretty much endless!
I've included recipes for my homemade macaroni and cheese and homemade red cabbage coleslaw below, but if you're short on time or just feeling especially lazy you could also just substitute boxed mac & cheese and store bought coleslaw instead. I'll be honest though, it's gonna be pretty hard to beat the recipes below with something you picked up at the grocery store. Or, if pulled pork, mac & cheese and coleslaw isn't your thing you could even fill the cornbread bowls with even more corn!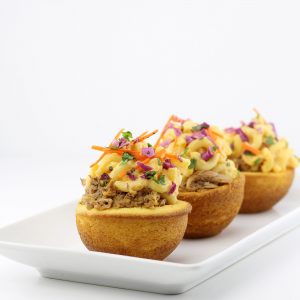 Pulled Pork, Mac & Cheese & Red Cabbage Slaw in Edible Cornbread Bowls Recipe
Nick @ DudeFoods.com
Pulled pork, macaroni and cheese and red cabbage coleslaw combine for the perfect bite when you pack them into these edible cornbread bowls!
Ingredients
1

pork shoulder

approximately 3 lbs.

1

cup

BBQ sauce

1

jar

BBQ seasoning

4

cups

cornmeal

3

cups + 1 1/2 tablespoons

flour

1 1/3

cups

sugar

1 1/2

teaspoons

salt

6

teaspoons

baking powder

8

eggs

5 1/2

cups

milk

1 1/3

cups

vegetable oil

8

ounces

pasta

2

tablespoons

butter

3

cups (12 ounces)

Cheddar cheese

shredded

1/4

cup

orange juice

1/8

cup

lime juice

1

tablespoon

brown sugar

1/2

red cabbage

chopped

1

carrot

grated

1/4

cup

cilantro

chopped
Instructions
Season the entire pork shoulder with your choice of seasoning and place into slow cooker.

Top with 1 cup BBQ sauce and cook on low for 8 hours or high for 4 hours or until pork shoulder can easily be shredded with a fork.

Shred pork shoulder with a fork and stir to coat with sauce.

In a bowl combine 4 cups cornmeal, 3 cups flour, 1 1/3 cups sugar, 1 teaspoon salt and 6 teaspoons baking powder. Stir in 8 eggs, 4 cups milk and 1 1/3 cups vegetable oil.

Pour cornbread mixture into Bake-a-Bowl Pan and bake at 375° for 20 minutes or until a toothpick inserted into the cornbread bowls comes out clean.

Repeat again a second time to make a total of 12 bowls.

Cook pasta according to the directions on the package.

In a separate pot, melt 2 tablespoons butter over medium heat and stir in 1 1/2 tablespoons flour. Add 1 1/2 cups milk and reduce heat to low. Stir in 3 cups shredded Cheddar cheese slowly until melted and pour over cooked pasta.

In a bowl whisk together 1/4 cup orange juice, 1/8 cup lime juice, 1 tablespoon brown sugar and 1/2 teaspoon salt.

Add cabbage, carrots and cilantro and toss to combine

Assemble your cornbread bowls by adding pulled pork to each one and then topping it with macaroni and cheese and red cabbage slaw.