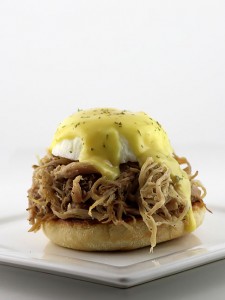 Yesterday I posted my recipe for Bratwurst Style Pulled Pork Sliders — made with a delicious Boneless Netted Fresh Pork Shoulder Roast from Smithfield — and although it took everything in my power not to completely devour the three pounds of pulled pork I ended up with I somehow managed to save some from the next day.
There was a small problem though. I'd completely run out of all of the amazing soft pretzel buns I used for the sliders and being too lazy to go to the grocery store and buy more I was forced to come up with another dish that could utilize the remainder of my pulled pork and thus the Pulled Pork Benedict was born!
I've done plenty of Eggs Benedict posts before where I've mentioned my dislike for Canadian bacon. I guess it's not even that I don't like it, it's just that there are so many better things I could think of to take its place, and one of those is pulled pork!
If you want to make Pulled Pork Eggs Benedict there are basically two routes you can take — the fairly easy one and the super easy one. For the super easy one you can just toast an English muffin, top it with your warmed pulled pork from the night before, poach your eggs using an egg poacher like this and then use a hollandaise sauce mix like this one where you just have to add butter and milk or water (I prefer milk).
The second way — which I've included the recipe for below — involves poaching your own eggs and making your own hollandaise sauce, both of which always seem to intimidate people although once you get the hang of it both are pretty simple. Whichever way you choose though, you're going to end up with a pretty amazing breakfast!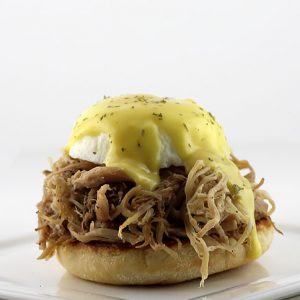 Pulled Pork Benedict Recipe
Nick @ DudeFoods.com
If you like Eggs Benedict but dislike Canadian bacon just follow this recipe and swap it out for pulled pork instead!
Ingredients
1

English muffin

2

fresh eggs

pulled pork

1

teaspoon

salt

2

teaspoons

white vinegar

1

tablespoon

milk

1

tablespoon

lemon juice

3

egg yolks

8

tablespoons

butter

melted
Instructions
Heat 2 inches of water in a pan and add 1 teaspoon salt and 2 teaspoons white vinegar.

Crack eggs into small bowls.

Using a spoon stir the water in your pan quickly in one direction to create a whirlpool effect and slowly pour your eggs into the water. This isn't totally necessary, but it'll definitely help keep your eggs more intact.

Cover pan, turn off heat, let sit for 5 minutes and then remove poached eggs with a slotted spoon.

If your hollandaise isn't finished yet you can transfer your poached eggs to a bowl filled with ice water and then just heat them up again in warm water prior to serving.

Whisk 3 egg yolks and combine with milk and lemon juice in a pan over medium heat slowly adding 8 tablespoons of melted butter. Whisk until thickened.

Toast your English muffin halves, top with warmed pulled pork, add your poached egg and pour hollandaise over the top of it. Enjoy!