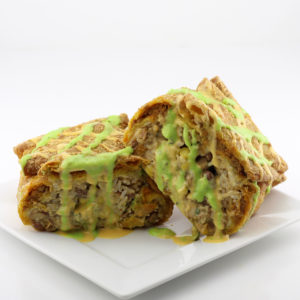 I couldn't decide between one giant burrito and seven mini tacos for lunch the other day so I figured what the hell, I'll just pour some batter over the burrito, bread it in the mini tacos, deep fry it and eat the entire thing because that's totally the logical thing to do right?
To create it I followed a process similar to when I made my French Fry Bun Double Cheeseburger, White Castle Slider Breaded Big Mac and Chicken Nugget Breaded Whopper and started off by placing my burrito in a bowl lined with plastic wrap. I then poured batter over the burrito, stuck the mini tacos to it, wrapped it up and froze it until I was sure that the tacos wouldn't detach from the burrito when I deep fried it.
After about five minutes in the deep fryer I let me burrito cool and then topped it in nacho cheese and creamy avocado salsa. I'm also pretty sure that this was the first time ever where I actually cut my burrito in half prior to eating it, which was necessary due to the sheer size of the thing.
For as fun as this was to make though and for how cool it looked when I was done I honestly wasn't super psyched with how it tasted. The mini tacos I used — which were from the freezer section of the grocery store — were just totally bland. Had they been filled with anything more than the trace amount of ground beef they contained the whole thing would have tasted amazing, but that wasn't the case. All they really did was add an extra layer of breading. Dipping it in salsa helped a bit, but overall this is one of those rare instances where bigger was not necessarily better.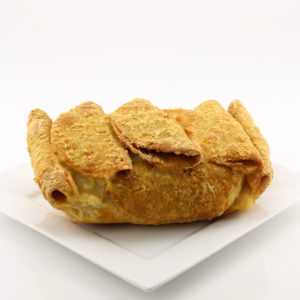 The Mini Taco Breaded Deep Fried Burrito Recipe
Nick @ DudeFoods.com
Can't decide between a burrito and tacos? Then follow this recipe and take your burrito, bread it in mini tacos and deep fry it! It's the best of both worlds!
Ingredients
1

burrito

1

cup

flour

1

cup

light beer

7

mini tacos

2

quarts

oil

for frying

Your choice of dipping sauce

I went with nacho cheese and some creamy avocado salsa that I picked up at the grocery store
Instructions
In a bowl combine flour and beer until smooth.

Line the bottom of a bowl with plastic wrap and place a non-frozen burrito on top of it.

Pour batter over the burrito, press the frozen mini tacos into the batter — one on each side and three on top — and wrap the whole thing up in plastic wrap.

Wrap aluminum foil around the entire thing and place in your freezer for 45 minutes to an hour or until the burrito can be picked up without the mini tacos falling off.

Heat oil in deep fryer or heavy skillet to 375°F.

Unwrap the mini taco breaded burrito and deep fry for 5 minutes or until golden brown.

Serve with salsa, nacho cheese or your preferred dipping sauce.