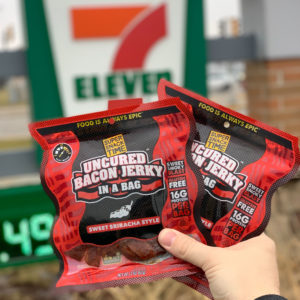 Bacon Day is December 30th and if you've been following this blog for a while, then I'm sure you're well aware of how much I love bacon. The one downside of bacon though? It isn't super convenient to take on-the-go. Not until now that is!
If you're not familiar with Super Snack Time yet I'm sure you're at the very least familiar with its founder — Harley Morenstein from Epic Meal Time. Earlier this year Super Snack Time started selling Pizza in a Bag — a jerky that's flavored with real pizza toppings including tomato sauce and Parmesan Cheese. Now they're back with their newest creation — Bacon In A Bag.
I get sent a ton of food to sample and it seems like every single week there's a different jerky company offering to send me some of their product to check out. The problem though is that so much of the jerky out there just tastes exactly the same, so I usually just pass on most of the offers I receive.
I've been an Epic Meal Time fan since Harley and Muscles Glasses first made their Fast Food Pizza though, and seeing what Harley has done with bacon over the years I knew that if anyone could perfect the art of bacon jerky it was him. Granted, that fandom came with some pretty high expectations, but I'm happy to report that Bacon In A Bag didn't let me down in the least!
Since Bacon In A Bag is technically a jerky I just sort of assumed that like most jerky it would be super chewy and dry but nope, that's not the case at all! Each two ounce bag has four or five strips of uncured bacon that are mixed with sweet Sriracha sauce, Tamari soy sauce, honey and ginger to give the jerky a little bit of sweet heat.
Funny story, I was on set with a professional food stylist once and he told me that the trick to making bacon look nice and shiny was to spray it with cooking spray. Bacon In A Bag has that exact same appetizing look the second you grab a slice.
Bacon In A bag is nitrate, nitrite and MSG free, and contains 16 grams of protein per serving. Plus, not only is it great on its own, but as you can see below it's also amazing as an addition to things like macaroni and cheese.
So, move over string cheese and granola bars because I have a new favorite snack food! OK, who am I kidding? I never eat granola bars…. I'm serious about Bacon In A Bag though! I've already gone through five bags in just two days!
If you want to try Bacon In A Bag for yourself just head over to your local 7-Eleven, because they're selling it exclusively. 7-Eleven also carries other epic snack from Super Snack Time like Taco In A Bag, which is filled with big, meaty pieces of premium beef jerky, tossed in fresh cilantro for a classic carne asada taco taste. Or, you can also get a free bag of Bacon In A Bag with any purchase from SuperSnackTime.com through January 2nd!