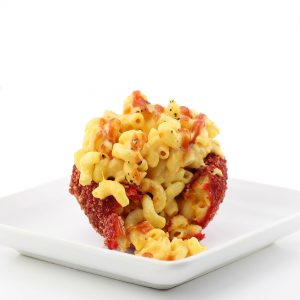 The idea for these macaroni and cheese bowls came to me after I made my Macaroni and Cheese Taco Shells, only this time instead of a panko breading I decided to go with my old friend Flamin' Hot Cheetos!
To make these all you need to do is pack some macaroni and cheese in a Bake-a-Bowl Pan
freeze it and then bread and deep fry the bowls. If you don't have a deep fryer I'm sure you could bake them as well, but if you go that route you'll have to figure out the temperature and timing on your own.
I know that buying a specific pan just to make some macaroni and cheese bowls might seem like a waste of money, but you can also use it to make pizza bowls, cornbread bowls, scrambled eggs in pancake bowls, biscuit bowls and popcorn chicken in waffle bowls.
When I first got the pan I figured it would end up just sitting in a kitchen cabinet with my Slap Chop
, my breakfast sandwich maker
and all the other random kitchen gadgets I bought and never ended up even taking out of the box, but it's quickly becoming one of my most used kitchen tools.
I originally though about filling my macaroni and cheese bowls with pulled pork, but then opted for even more macaroni and cheese because nothing goes better with Flamin' Hot Cheetos breaded deep fried mac & cheese than even more mac & cheese!
Plus, once I had these made I wanted to eat them immediately and didn't feel like going to the grocery store, buying a pork shoulder and then waiting all afternoon while it cooked in my slow cooker. I guess I could have just picked up a tray of frozen pulled pork and baked it in the oven or even in my microwave though, so I guess my issue was that I just didn't feel like driving to the store….
Anyway, next up I want to try to make a giant Flamin' Hot Cheetos breaded macaroni and cheese bowl, similar to the edible noodle bowls that I filled with pork teriyaki and the spaghetti noodle bowls that I filled with spaghetti!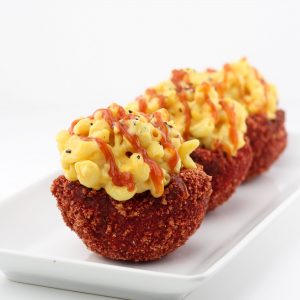 Flamin' Hot Cheetos Breaded Macaroni and Cheese Bowls Recipe
Nick @ DudeFoods.com
What better way to eat your macaroni and cheese than out of a bowl made out of macaroni and cheese!
Ingredients
2

quarts

oil

for frying

1

bag ( 8 1/2 ounces)

Flamin' Hot Cheetos

8

ounces

pasta

2

tablespoons

butter

3

eggs

2

cups plus 1 1/2 tablespoons

flour

2

cups

milk

3

cups (12 ounces)

Cheddar cheese

shredded
Instructions
Cook pasta according to the directions on the package.

In a saucepan, melt butter over medium heat and stir in 1 1/2 tablespoons flour. Add 1 1/2 cups milk and reduce heat to low. Stir in cheese slowly until melted and pour over cooked pasta.

Transfer macaroni and cheese into the Bake-a-Bowl Pan, add the top piece and freeze for an hour or until the macaroni and cheese bowls are frozen through.

Remove macaroni and cheese bowls from Bake-a-Bowl Pan. If they're sticking and hard to remove just turn the pan upside down and run hot water over it for a minute or so and that should loosen them up.

Set up a dredging station with three bowls — 2 cups flour in the first one, 3 beaten eggs and 1/2 cup milk in the second one and crushed Flamin' Hot Cheetos in the third one.

Coat each macaroni and cheese bowl in flour, submerge in egg wash and cover in crushed Flamin' Hot Cheetos. Repeat this step a second time if necessary and then place back in the freezer for another hour.

Heat oil in deep fryer or heavy skillet to 375°F and fry Flamin' Hot Cheetos Breaded Macaroni and Cheese Bowls for 5 minutes.

Drain on paper towels and serve with your choice of filling.