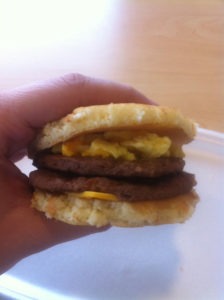 While on my lunch break recently I stopped at a McDonald's I'd never been to before. As I walked in I noticed a sign on the door that stated how they served pancakes and breakfast burritos all day long. I could hardly believe my eyes! I had just mentioned when recreating the McDonald's Mega Tamago Burger how I longed for an all day breakfast offering from them and now my dream was coming true! I know that it's only two items, but that's still a great start!
The only logical thing to do after being granted my wish of an all day McDonald's breakfast was to create some sort of concoction that combined their regular lunch menu with these two day long breakfast choices so I ordered some pancakes, a breakfast burrito, a McDouble and grabbed a seat and got to work.
I started by removing the bun from the McDouble and topping the burger patties with the eggs, sausage, peppers and onions from my breakfast burrito. After that was done I placed the burger on a pancake, topped it with another pancake, cut the excess pancake trim from around the edges and enjoyed my McDonald's Pancake Burrito Burger!