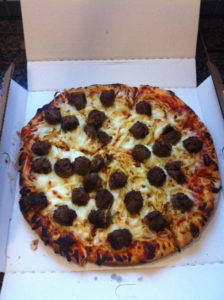 I've been meaning to try out Palermo's Pizzeria & Cafe for a while, so the fact they recently had a half price deal on Groupon was even better.
With thirteen different pizzas to chose from, along with calzones and sandwiches, deciding what to order was no simple feat. I was originally eyeing up the chicken caesar pizza, but as soon as I saw that they offered spaghetti and meatball pizza I knew that I had to try that instead. I clearly made a wise decision.
The pizza is made up of a hand tossed crust covered in chunky tomato sauce, mozzarella and Provolone cheeses, spaghetti noodles, meatballs and is then sprinkled with Parmesan and romano cheeses. All in all the pizza was really good. It was right up there with the lasagna pizza that I wrote about a few months ago. The only thing I didn't like about it was that it seemed a little dry. It would have been nice if the pizza included a cup of dipping sauce.