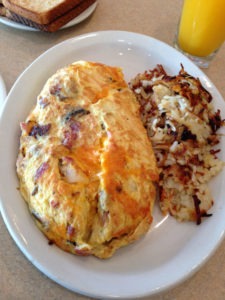 I absolutely LOVE breakfast food. I enjoy it so much in fact that it isn't uncommon for me to eat it two, three or even sometimes four times in the span of a day.
Recently, I was eating at Maxfield's Pancake House for the first time and as soon as I noticed the Kitchen Sink Omelette on their menu I knew that I had to order it. I didn't even bother looking through the final five pages of foods they offered because for me this is the epitome of great breakfast food.
The omelette includes ham, bacon, sausage, tomatoes, onions, mushrooms and Cheddar cheese and it was honestly the biggest omelette I've ever eaten in my entire life.
Looking back on it I probably didn't really need the side of turkey sausage patties that I ordered along with it — especially since it already came with hash browns and toast — but I guess that even after reading the description of the omelette I still didn't quite grasp just how gigantic it would be when it finally arrived.
Despite its size however I am happy to report that I finished the entire omelette and all the other food that came along with it. I then drove home and proceeded to take a two hour nap.Then I woke up for about 30 minutes before taking another nap. All in all it was a pretty great day!