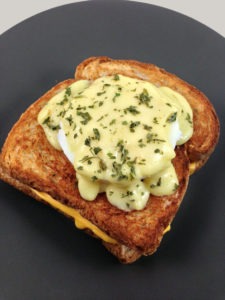 What do you do when you want Eggs Benedict but you don't have any English muffins? Use a grilled cheese sandwich instead!
I mean, I guess I could have just used a piece of toast instead of an actual sandwich, but that just seems a little boring. Plus, it also would have been way too similar to the Poor Man's Eggs Benedict that I created a year and a half ago.
Alright, so after looking at these photos of my Grilled Cheese Benedict for a few seconds you're probably thinking "Yeah, that's great and all, but what about the Canadian bacon?" Well, I decided to put the Canadian bacon INSIDE the grilled cheese sandwich!
So why put the Canadian bacon inside the sandwich you ask? To me it sort of just helps with the flavor a little bit more. I've honestly never been a huge Canadian bacon fan and when it's on top of an English muffin and you cut up your Eggs Benedict and take a bite it's one of the first things you taste. With the Canadian bacon in the middle of a sandwich between two slices of cheese though it helps even things out.
Another plus of using a grilled cheese sandwich as the base to my Eggs Benedict that I discovered is that it soaks up the egg yolk WAY better than a toasted English muffin does. Aside from that though grilled cheese sandwiches are just taste better than a boring old English muffin, and those few things combined make the Grilled Cheese Benedict a truly delicious breakfast option!