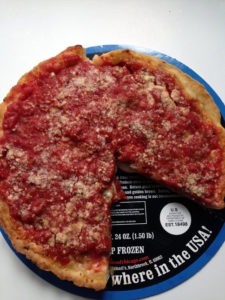 There's a custard place here in Wisconsin called Kopp's that ships their custard nationwide for a fairly substantial fee. Since it basically has to be shipped UPS Next Day Air though it's not their fault that it's so expensive, but unless you've tried it you'd probably never consider paying $75 plus an additional $60 or so in shipping charges just to get ten pints of their custard sent to you.
If, on the other hand, you lived here in Milwaukee like I do and had access to the amazingly delicious custard that Kopp's serves up on a daily basis you wouldn't bat an eye at ordering some custard from them every once in a while if you for some reason moved out of state. I'm guessing that most people from the Chicago area would feel the exact same way about Lou Malnati's deep dish Chicago-style pizzas.
Even though they have 36 locations total, unless you live in or near Illinois there isn't going to be one within driving distance. So, what do you do when you want one? You head over to TastesOfChicago.com where you can get their pizzas shipped directly to your house!
Lou Malnati's was nice enough to send me a couple pizzas for free, but the regular price is $58.99 — which includes shipping — for two 9″ deep dish pizzas. Is the price worth it? If you've ever had pizza from Lou Malnati's then you already know that the answer is a resounding yes.
Each pizza weighs in at about a pound and a half — depending on which toppings you choose — and can easily feed two adults. I on the other hand got a little greedy with mine and finished them both by myself in the span of only 36 hours.
Every pizza is also hand-made from scratch, baked and then immediately frozen, so they're are as close to restaurant quality as you can possibly get. Trust me, they're delicious.
Even if you're not in the mood for pizza though TastesOfChicago.com has tons of other Windy City favorites like beef and hot dogs from Portillo's and ribs from Carson's that they can ship right to your front door so check 'em out!