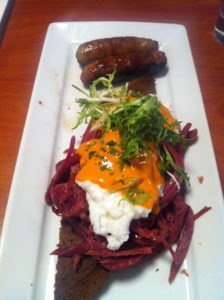 Do you know how you can tell when a restaurant is doing breakfast right? When they're so crowded during that time that they don't even need to stay open the rest of the day. Blue's Egg has only been open since last summer, but it has already become one of Milwaukee's top go-to spots for brunch. In the seven hours a day that they're open (7am – 2pm) Blue's has two different menus, a breakfast only menu until 10:30am and a sort of breakfast/lunch hybrid menu for the remaining three and a half hours that they're open.
During my most recent visit I ordered the Dubliner Benedict, which consists of rye toast topped with corned beef, poached eggs, leeks and a paprika aioli. Each breakfast also includes one side, and out of the almost 20 different side choices I went with the sausage links. I also ordered the Chicken Chorizo Very Stuffed Browns, a pile of hash browns with chicken chorizo and spinach in the middle topped with paprika aioli.
Considering that both items I ordered were topped with paprika aioli it's a good thing that I liked it. In fact, the aioli (along with the chicken chorizo in the Very Stuffed Browns) pretty much stole the show when it came to this breakfast. You know how sometimes you can have a good meal but there isn't really anything that takes it to the next level and makes it a great meal? The paprika aioli at Blue's is what really turned this good breakfast into a great breakfast.