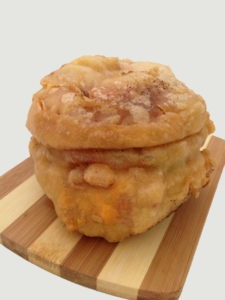 Ever since I tried the deep fried burger at Painted Parrot I've been meaning to make one of my own. The only difference is that instead of deep frying only the burger patty like they do I wanted to deep fry the entire thing! Sure, I've made Deep Fried White Castle Sliders before, but those are nowhere near the size of a normal burger.
It also happens that Target recently sent me a gift card and encouraged me to check out their Archer Farms and Market Pantry lines of food. In my mind this was the perfect opportunity to bring my deep fried burger to life!
With my gift card in hand I headed to Target and grabbed some burger patties, Cheddar cheese slices, fresh lettuce and tomato, some pre-cooked bacon and even a box of macaroni and cheese bites to go along with my meal. The only item I bought that I'm not really sure was Target brand or not were the burger patties since they didn't really have any sort of brand name on the package. Plus, now that Target sells beer — which the locations here in Wisconsin didn't until recently — it really is a one stop shop when you're getting ready to grill!
After grilling my burger patty and assembling my bacon cheeseburger — which you can see below — I dunked the entire thing in beer batter and dropped it in my deep fryer. Long story short, the burger was delicious! There's just something about a nice crispy breading that makes everything better.
Target was also nice enough to send over an extra $25 gift card for me to give away to one lucky DudeFoods reader, so you can be on the lookout for a giveaway coming up sometime soon! Oh, if if you're looking for a new grill you're in luck to because all the grills at Target are currently on clearance for 50% off!