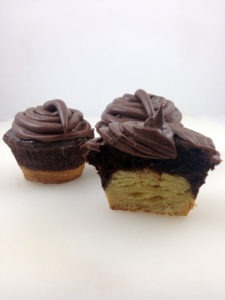 A couple months ago I got to thinking about all the Cronut imitations there are out there — I even did my own take on it last year with the Bacon Maple Crong John — so I posed the question on Twitter as to whether or not anyone has made a croissant / cupcake hybrid yet.
It didn't appear that anyone had, and when DudeFoods follower @WadeBSmith came up with the amazing suggestion that it should be called a Crupcake I knew that I had to try making a few of them!
Since croissant dough and cupcakes have the exact same cooking temperatures and cooking times I figured that making some Crupcakes would be as simple as cutting out some circular pieces of croissant dough, layering them on top of one another inside some cupcake liners and pouring the cupcake batter over them.
Well… that plan didn't work at all…. The cupcake portion of my Crupcakes cooked perfectly, but the croissant halves ended up undercooked, which I'm assuming was because they were covered in cupcake batter. What I ended up doing — and what worked out perfectly — on my second attempt was to cook the croissant dough ahead of time and then pour the cupcake batter over it and put the Crupcakes back in the oven.
I'm not a huge fan of sweets to begin with, so the fact that the Crupcakes were half croissant and half cupcake worked out perfectly for me. The only thing that was really a pain at all was making the frosting on top of them look good. I seriously have no idea how bakeries make theirs look so amazing. Granted, I don't own a piping bag or any cool decorating tools, but I figured that putting a bunch of frosting in a Ziploc bag and cutting a hole in the corner would suffice. After about 20 tries I finally got to the point where the frosting looked remotely decent and I settled on that, but I've definitely seen better.
Overall though I'd consider the Crupcake a success. If I made them again I'd probably add some frosting or apple pie filling or something between the layers of croissant dough as well just to add even more flavor, but as an experiment they turned out pretty great!