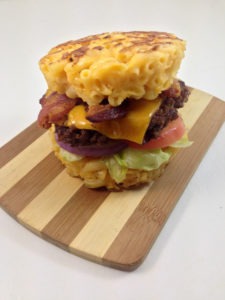 You may not be aware of it, but today is National Macaroni & Cheese Day, and to help celebrate this amazing holiday the Wisconsin Milk Marketing Board asked me to create a recipe to share with all the macaroni and cheese lovers out there.
Now, I'm definitely not the first one to create a burger that has a bun made out of macaroni and cheese, yet I've always wanted one so I decided to whip one up anyway. Plus, it's actually a lot easier to make than you might think!
My original plan was to bread my macaroni and cheese buns in bread crumbs and deep fry them, similar to what Rockit Bar & Grill does with theirs, or even stuff the mac and cheese between a couple slices of flattened out bread like The Vulgar Chef did with his, but the mac and cheese buns held together remarkably well on their own already, so I didn't even bother.
A couple noodles fell off of each one as I was frying them, but aside from that they turned out perfect. It seems like the trick is to just get the pan nice and warm and then sort of sear them. The burger still wasn't necessarily the easiest thing in the world to eat, but when you're eating ridiculous stuff like this that's just the sacrifice that you often have to make.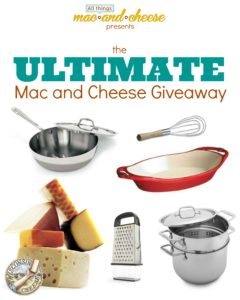 Want to make your own Macaroni and Cheese Burger Buns? Head over to All Things Mac and Cheese for the recipe!
Plus, while you're over there you might as well enter the Ultimate Mac and Cheese Giveaway that they're running through this Friday, July 18th. Prizes include:
All-Clad Pasta Pot
All-Clad Saucier
Lodge Enameled Cast Iron Casserole
Wooden Handled Flat Whisk
OXO Good Grips Box Grater
Selection of Wisconsin Cheese and butter