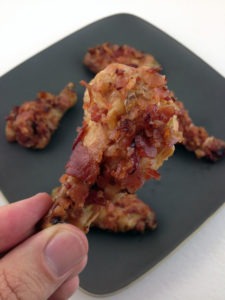 Farmland Bacon recently launched their Farmland Bacon Club, and to help spread the word — or I guess as more of a bribe to get me to mention it — they sent me a few packages of their bacon to try. Well Farmland, you've been heard!
So what exactly is the Farmland Bacon Club? It's an all-encompassing website where you can find bacon news, contests and giveaways, crazy bacon creations and more. You'll also find a Bacon Weave Taco recipe there that might look a little familiar, although they fancied theirs up a little more than I did with stuff like purple cabbage and goat cheese.
Now, this blog post wouldn't be complete without me actually making something with some of the free bacon I got, so I grabbed a package of their Honey & Maple Flavored bacon, fried it up and threw it in my blender! Why my blender you ask? Simple, because I wanted to use it to bread some chicken wings! That and I was too lazy to chop it all up by hand….
Once my bacon was ready I grilled some wings. I used unbreaded wings, but if I made these again I'd probably use breaded ones, because a nice crispy breading in addition to the maple syrup and bacon could only make these even more delicious.
Once my wings were done I brushed maple syrup over them with a pastry brush and sprinkled my bacon pieces on top of them. I expected the bacon to just stick to the wings, but it kept falling off when I'd pick them up. What I did to remedy this was to just put them back in the oven for three minutes at 400°. After that they were perfect! Oh, and by "perfect" I mean that the ten wings that I made were devoured by me in approximately a minute and a half. Thanks for the bacon Farmland!