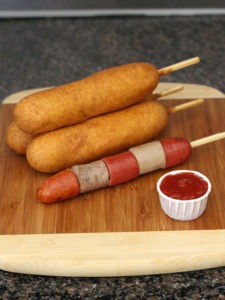 These days it seems like every baseball team out there is jumping on the crazy food train. The problem with a lot of the new foods though — like the Churro Dog sold by the Arizona Diamondbacks for example — is that they just don't seem like they would be at all possible to eat while you're trying to watch a baseball game. So… I decided to come up with my own!
Being from Milwaukee I also wanted something that would honor the Milwaukee Brewers, and that's how I came up with the idea for this corn dog!
For those of you that aren't familiar with the racing sausages, in the middle of the 6th inning at every Milwaukee Brewers home game five people don sausage costumes — bratwurst, chorizo, hot dog, Italian sausage and Polish sausage — and race around the baseball diamond. Being a huge fan of corn dogs I always though it would be cool if a Racing Sausages Corn Dog existed, where instead the traditional hot dog on a stick dipped in batter there were portions of all five racing sausages instead.
After finally making my own corn dogs at home a couple months back and realizing just how simple it was — seriously, I have no idea why I thought it would be difficult — I decided that it was finally time to bring the Racing Sausages Corn Dog to fruition! So, I headed to the grocery store and picked up all five of the necessary sausages, threw them on my grill and got to work on mixing the batter!
I once again used AllRecipes.com batter recipe because honestly, it's already perfect so why waste time coming up with my own when it probably wouldn't even be close to as good as theirs right? Plus, I was already getting hungry and the faster I could finish these corn dogs, move them from the deep fryer to my kitchen counter for photos and then into my belly the better!
Once my sausages were finished on the grill I chopped them up and added five equal sized pieces of bratwurst, chorizo, hot dog, Italian sausage and Polish sausage to my corn dog sticks. After that it was just a quick dunk in the batter and a few minutes in my deep fryer until these babies were golden brown and ready to eat!
So how did they taste? Awesome! Are they better than regular corn dogs? Absolutely! The Racing Sausages Corn Dog is basically the equivalent of eating five different but equally rad little corn dogs all on one stick. If I ever open a booth at the Wisconsin State Fair — which coincidentally starts later this week! — this will be one of the first items on my menu.