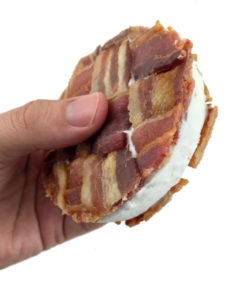 The bacon weave used to be a staple here on DudeFoods, showing up at least once every month or two. Looking back recently though it appears that I haven't utilized it since back in March when I made a Double Decker Mac & Cheese Stuffed Bacon Weave Taco and then again a month later when I followed it up with a bacon wrapped ham for Easter.
Don't get me wrong, I still eat tons and tons of bacon, it's just that the tedious process of weaving it together doesn't happen quite as much as it used to. I'll be honest though, I've missed it, so I came up with this — The Bacon Weave Ice Cream Sandwich!
I started off by creating two square bacon weaves, cooking them in my oven until they were nice and crispy and then cutting a circle out of each one. After this comes one of my favorite steps in the process… eating all the discarded bacon!
Once all the leftover bacon pieces were safely in my belly I grabbed my cordless reciprocating saw and a pint of ice cream I had in my freezer and sliced a one inch thick circle of ice cream from the pint. Now that I think about it, buying an ice cream sandwich from the grocery store and just removing the top and bottom — or even just using a knife instead of a reciprocating saw — probably would have been much safer, but whatever.
I'm actually a little amazed that I didn't hurt myself cutting the ice cream with a saw because the day before I cut my finger trying to use scissors to open some pistachios and a week prior I chopped the tip of my finger off while using a mandoline to slice zucchini. Serves me right for trying to eat healthy I guess….
Anyway, more about the Bacon Weave Ice Cream Sandwich and less about how much I always injure myself when making food…. Seriously, this thing was delicious. It already would have been great with just regular bacon, but the maple bacon took it over the top. It's a bummer that summer is over because if it was still 80 degrees outside here in Milwaukee I'd be eating these every goddamn day.