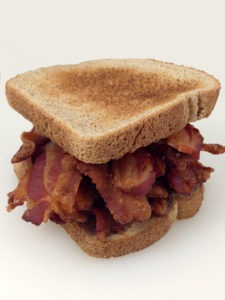 It's no secret that the best part of a BLT is the bacon. In fact, I'd wager to say that most people couldn't care less about the lettuce or tomato.
That's why while making a BLT for myself one night recently I decided to skip the lettuce and tomato altogether and just stick with the bacon part of it… An entire pound of bacon that is! That coupled with some toasted wheat bread and some deliciously fattening Hellman's Mayonnaise and my sandwich was complete!
I know what you're thinking, that the sandwich was probably too dry since all it consisted of was bacon right? Well, your assumptions are incorrect! I realized that if you just use a decent brand of bacon (I used some Black Label Bacon that Hormel sent me) and slather enough mayonnaise on there your sandwich has no chance of drying out. Ladies and gentlemen, I give you The B!