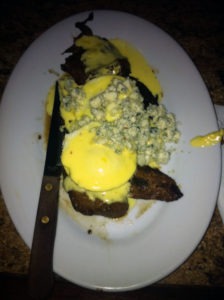 In addition to having the best corned beef and Reuben sandwiches in all of Milwaukee McBob's Pub and Grill also serves up a pretty amazing brunch. I've probably eaten breakfast there five or six times and a majority of those times I've ordered The McGinnity, which is three eggs over a bed of homemade corned beef hash with a side of American fries or hash browns.
On my most recent brunch visit however one of the specials was the Tenderloin Eggs Benedict. While similar to your typical eggs Benedict there is one major difference in that with this dish instead of the eggs topping an English muffin they top a delicious eight ounce tenderloin steak. In addition to the Hollandaise sauce this particular eggs Benedict had blue cheese crumbles sprinkled over it as well.
If you're planning on stopping at McBob's for brunch make sure that you give yourself a decent amount of time because it can get pretty crowded and the service can be a little slow at times, but if you aren't in a hurry the wait is well worth it.