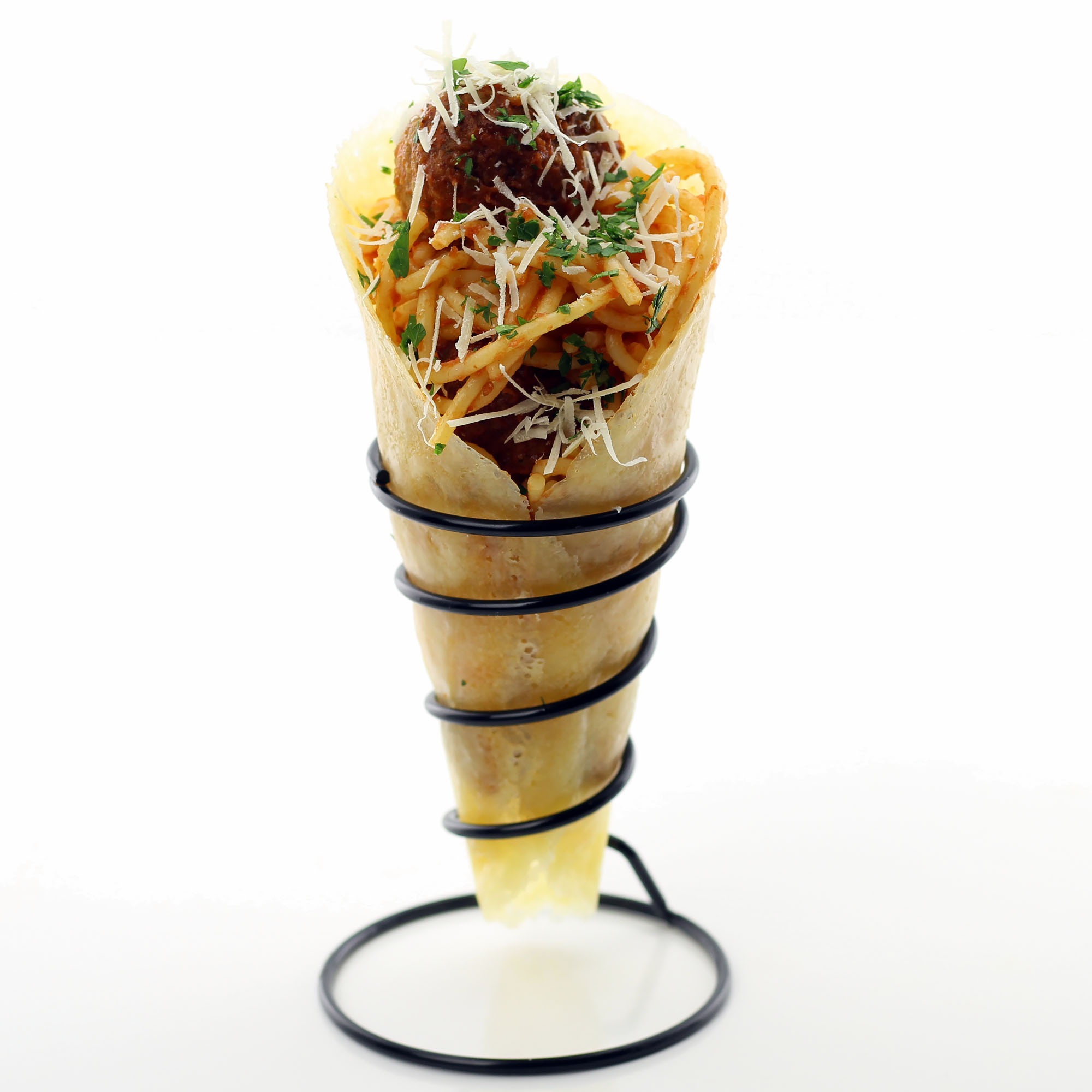 I've been hooked on Folios Cheese Wraps ever since I discovered them over a year ago while browsing the cheese section at my local grocery store.
Since them I've used them to make Cobb Salad in Parmesan cheese bowls, Cheddar Cheese Bacon Cheeseburger Bowls and another set of Cheddar cheese bowls that I filled with Sriracha Mac & Cheese.
Recently though I decided to switch it up from the usual cheese bowls and make some cheese cones instead!
All I had left from the most recent delivery of Cheese Wraps that Folios hooked me up with was a package of Parmesan Cheese Wraps, so whatever I stuffed my cone with would have pair well with Parmesan.
I posted a video of one of the finished cones on my Instagram story and actually got a lot of great suggestions about what I should pack them with. In the end though I decided to go with spaghetti and mini meatballs. Oh, and even more Parmesan sprinkled over the top of the cone for good measure….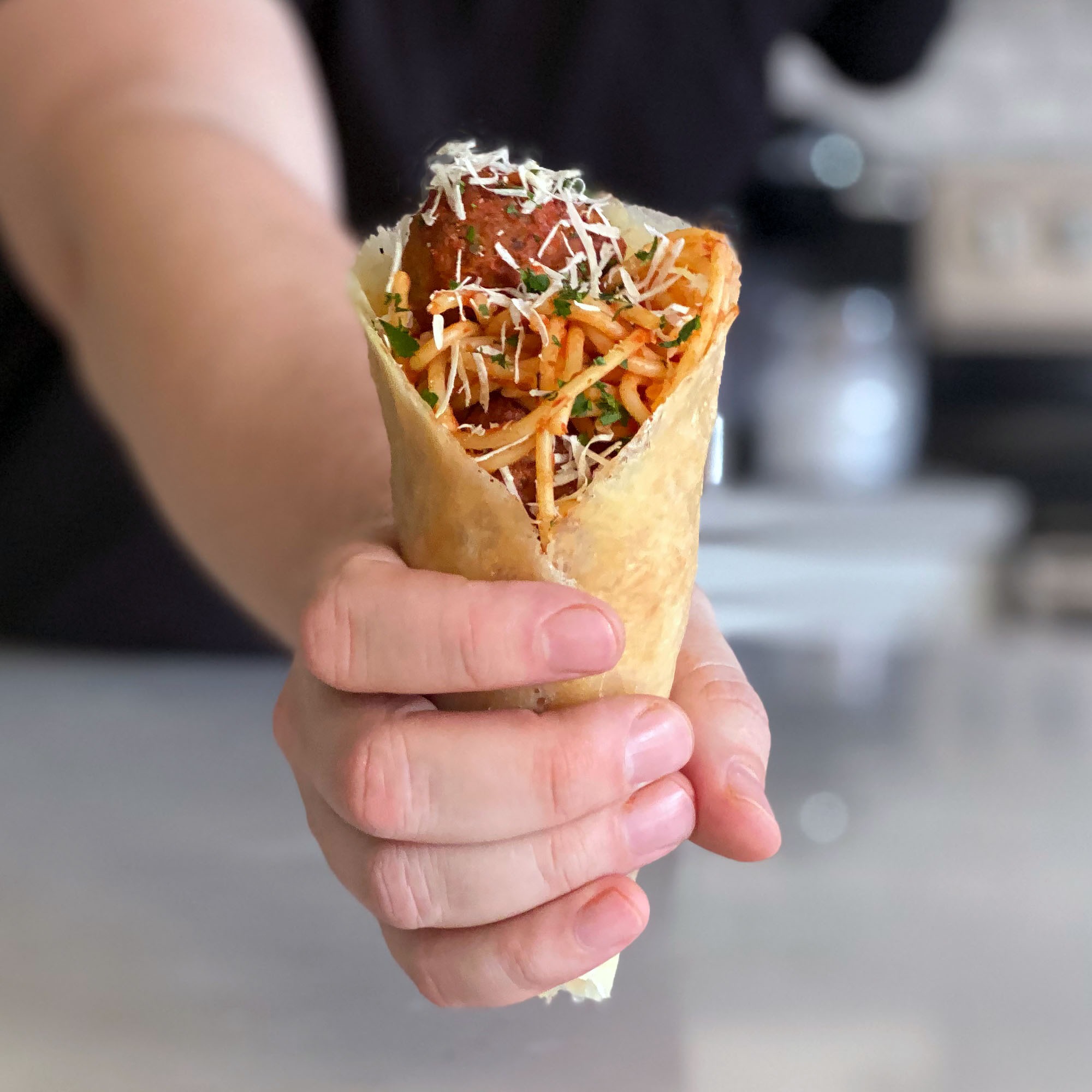 To create the Parmesan cones themselves I started off the same way I did when I made my cheese bowls — by microwaving a Cheese Wrap for a minute. Instead of forming it around a glass bowl like I previously did though I formed it around a cone that I made by wrapping aluminum foil around a styrofoam cone that my wife had from an old arts and crafts project.
I'm assuming that most people don't just have random styrofoam cones sitting around their houses though, and in that case I'm sure you could take some construction paper, form it into a cone, secure it with staples and wrap aluminum foil around that.
For the meatballs in my Parmesan cone I just went with pre-made, microwavable meatballs because due to everyone hoarding so much damn food lately the grocery store was out of any ground beef that wasn't super lean, and I'm just not a fan of really lean ground beef.
Laziness might have also played into my meatball decision a bit as well, because I'm pretty sure I could have found some non-lean ground beef had I just checked the other grocery store that was literally right across the street from the original one I was at.
Now that I think about it, I probably should have went with the lean ground beef, because if I keep eating like this I'm gonna put on about 50 pounds by the time this whole COVID-19 quarantine is over with and I can finally leave the house again….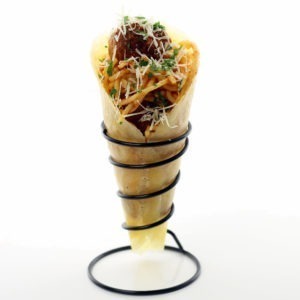 Spaghetti in a Parmesan Cheese Cone Recipe
Nick @ DudeFoods.com
Take your spaghetti and meatballs to the next level by eating them out of a cone made from Parmesan cheese!
Equipment
You'll need some sort of cone to use to form your Parmesan cheese cones. I made mine by taking a styrofoam cone that my wife had from an old arts and crafts project and wrapping it in aluminum foil. If you don't have a styrofoam cone though forming construction paper into a cone, securing it with staples and wrapping aluminum foil around that should work as well.
Ingredients
4

Folios Parmesan Cheese Wraps

8

ounces

spaghetti noodles

8

ounces

spaghetti sauce

12

mini meatballs

2

tablespoons

Parmesan cheese

shredded

parsley

diced, to garnish
Instructions
Take one Folios Parmesan Cheese Wrap — including the piece of parchment paper it comes on — and microwave it for 1 minute.

Form the cheese around your cone immediately after removing it from the microwave, let cool for at least 5 minutes and then remove the parchment paper. Repeat with the remaining cheese wraps and then refrigerate them for at least another 5 minutes.

Cook spaghetti noodles according to the directions on the package, drain water, and meatballs and sauce and stir to combine.

Fill your Parmesan cones with spaghetti and meatballs and top with shredded Parmesan and diced parsley.